Posted on
Fri, Oct 15, 2010 : 8:50 a.m.
Republican Rob Steele a no-show at candidate forum, but John Dingell still finds a strong critic
By Ryan J. Stanton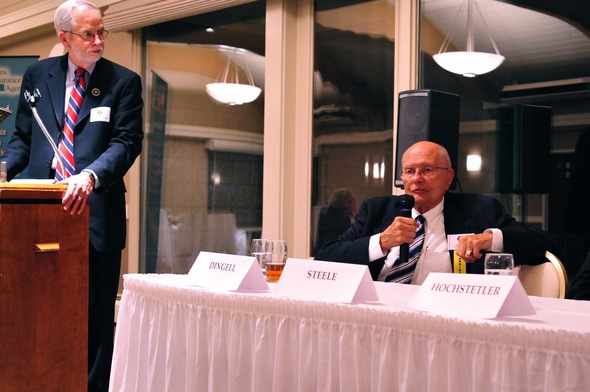 Ryan J. Stanton | AnnArbor.com
It didn't appear that U.S. Congressman John Dingell was going to face much opposition Thursday night when his Republican opponent, Ann Arbor-area cardiologist Rob Steele, didn't attend a candidate forum hosted by the Washtenaw County Medical Society.
But then Chase Ingersoll spoke up.
Ingersoll, a Republican from Ann Arbor running for the 53rd District state House seat against Democrat Jeff Irwin, was one of nine candidates who appeared at Thursday's event in Ann Arbor and answered questions before a 50-person crowd of mostly medical professionals.
Dingell, D-Dearborn, had been talking proudly about his efforts on national health care reform before Ingersoll interrupted, refusing to give the 84-year-old incumbent a free pass.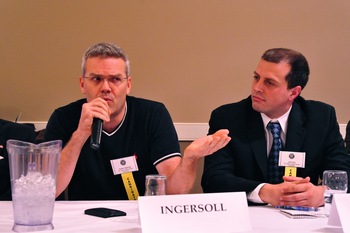 Ryan J. Stanton | AnnArbor.com
Ingersoll, who left his own opponent alone Thursday night, went on the attack against Dingell several times, shouting and pointing his finger at the 28-term congressman and accusing him of being less than honest with the crowd about his legislation.
At one point, Ingersoll made an obscene gesture that caused members of the audience to quietly murmur. He was asked multiple times to behave and quiet down.
"When the legislation goes into effect — it's going to take four years to do this because it's a tremendous undertaking," Dingell said at one point.
"But we start paying the taxes right away!" Ingersoll shouted. "Let's be honest, Mr. Dingell!"
At that point, a woman in the audience shushed Ingersoll and called him an "angry young man." Dingell then continued on talking about his legislation.
"There's a whole array of rights that are there," Dingell said. "It will be very much like the law that was written in Massachusetts, which is working quite well and which was defended by Mitt Romney while, I'm told, he was a Republican presidential candidate."
Ingersoll fired back, speaking out of turn again.
"And what did Mr. Romney say?" Ingersoll asked in a raised voice. "What does Mr. Romney say now about the health care legislation in Massachusetts? He said that it's not working — costs have gone up and services down. If Mr. Steele was here, he'd clean your clock on that issue, Mr. Dingell. That's why you only are having one debate with him."
Dingell had to leave about an hour into the forum. Before walking out, he turned to the crowd and said he was leaving those still in attendance at the mercy of Ingersoll.
"Be nice to him," Dingell quipped.
Steele had planned to attend, but canceled at the last minute. Steele's campaign relayed news partway through the forum that he was unavoidably stuck at another event.
Dingell commented on his opponent's absence in a statement released afterward.
"I guess my opponent didn't want to talk about his backward agenda of taking away the protections patients now have with the Patients' Bill of Rights," he said. "His right-wing agenda would increase the federal deficit, put control of health decisions back in the hands of insurance companies, and increase the number of people without health care. With an out-of-touch agenda like that, I guess I'm not surprised he doesn't want to talk about it with his colleagues in the medical field — they certainly don't support him on that."
Dingell spoke of the importance of unfettered access to quality, affordable health care, which he considers a right that should be enjoyed by all citizens. He said medical decisions are best left in the hands of patients and their doctors — not insurance company executives.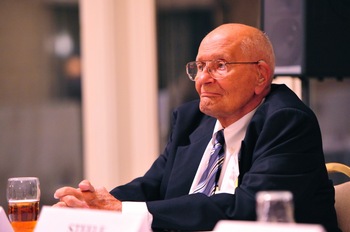 Ryan J. Stanton | AnnArbor.com
He said the new health care reform law is a Patients' Bill of Rights, but it also benefits doctors and medical professionals, which is why it was endorsed by the American Medical Association. Some opponents of reform, he said, want to go back to a broken health care system.
"The new law is going to ensure that the doctors have less time spent arguing with insurance companies and more time doing what they do best," Dingell said.
Dingell said the law puts an end, once and for all, to some of the reprehensible practices of the health insurance industry — calling for no more discrimination based on pre-existing conditions, no more lifetime caps on coverage and no more rescissions.
"What is going to happen there is that the insurance companies are going to be compelled to offer policies which meet certain standards for the protection of the public — all the things that were included in the Patients' Bill of Rights," he said. "The policies have to be written clearly in simple, understandable language. Kids can stay on their parents' policies until age 26."
Dingell said the new law already has reduced the cost of medicines for seniors who fall in the Medicare prescription drug gap, has allowed companies to keep insuring early retirees, and has given people with pre-existing conditions a place to purchase health insurance.
The reforms, he said, ensure health care coverage for 95 percent of Americans while reducing the federal deficit by about $138 billion.
Ingersoll said a lot of what he heard Thursday night was just "ridiculous." He suggested Washtenaw County would be better off if the state and federal governments ceased to exist.
"But as long as we want to try to play the nanny state and send all our money to Lansing and then put our hands out and say, 'Would you please send it back to us and tell us how to use it?' and then we play the same game with Washington, D.C., well, that's just schizophrenic," he said. "Are we abused wives? We're getting beat up each election and yet we do the same thing. We send our money to Lansing, we send it to Washington, D.C., and then we act like beggars saying, 'Please send it back to us.'"
Ingersoll directed his frustration at the audience at one point.
"I just find it insane that you people have been on this earth for 60, 70, 80 years and don't realize that yet, and you need a whippersnapper like me who's 41 years old to tell you the gosh darn truth: The emperor in Lansing and the emperors in Washington, D.C., have no clothes."
Ingersoll, a native of Texas, is the owner of A2 Global Shipping in Ann Arbor. He holds a law degree from the University of Illinois and is married with three children. He faces off against Irwin, a Washtenaw County commissioner, for the 53rd District seat on Nov. 2.
In response to a request for a brief biography prior to Thursday's forum, Ingersoll sent the Medical Society a mostly humorous and very detailed recording of his lifetime of medical experiences, including graphic descriptions of personal events.
Ingersoll explained his frankness to AnnArbor.com, saying he has no expectations of being able to beat Irwin and he has no real desire to win.
Other candidates at Thursday's forum included 18th District state Senate hopefuls John Hochstetler and Rebekah Warren, 52nd District state House hopefuls Mark Ouimet and Christine Green, and 54th District state House hopefuls David Rutledge and Richard Deitering. Go to the Voters Guide on AnnArbor.com to read more about them.
Ryan J. Stanton covers government and politics for AnnArbor.com. Reach him at ryanstanton@annarbor.com or 734-623-2529.