Posted on
Tue, Aug 31, 2010 : 1:51 p.m.
Republican Rob Steele to appear on Sean Hannity show on Fox News; says Dingell is vulnerable
By Ryan J. Stanton
(This story has been updated with additional comments from Dingell's campaign.)
Ann Arbor-area cardiologist Rob Steele, a Republican who will challenge John Dingell for Michigan's 15th Congressional District seat in November, will appear on Sean Hannity's show.
Steele, who says he believes Dingell is vulnerable this election year, told AnnArbor.com he has been invited to be a guest on Hannity's "Great American Panel" segment on the Fox News Channel at 9 p.m. Wednesday.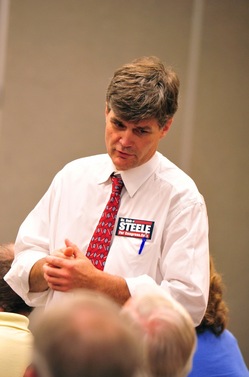 Ryan J. Stanton | AnnArbor.com
Steele's campaign today released the results of a recent poll conducted by Public Opinion Strategies, a national Republican political and public affairs research firm. The poll, paid for by Steele's campaign, shows Dingell, D-Dearborn, is up 51 percent to 42 percent on Steele.
Steele takes a lead — 46 percent to 41 percent — when respondents are informed that Steele is a practicing cardiologist, that he has helped build his heart clinic from the ground up, that he is a first-time candidate, and that his top priority will be to stop the out-of-control spending in Washington.
"It is time for us to take Congress back," Steele said in a statement. "This poll shows that the voters are ready for someone new. Congressman Dingell has served this country for 55 years, and now it is time for a change. We need to take Congress back from the career politicians and the special interests that are bankrupting our future and our children's future."
Jason Ellenburg, Dingell's campaign manager, said today the campaign doesn't put much stock in a poll commissioned by Steele.
"John Dingell is focused on continuing to create good-paying jobs and continuing his work as America's watchdog," he said. "Mr. Dingell is constantly in the district and he's hearing from constituents and, frankly, helping people in the district is really the only poll he cares about."
Ellenburg criticized Steele on the issues.
"He's talked about taking the country back and it's true," he said. "He wants to take it back to Bush-era policies that got our country in trouble in the first place.
"He's also said that people don't know him as of yet, and we think when people find out he's in favor of things like privatizing Social Security, when they find out he would have left the auto industry and the millions of people who work there high and dry, people will want to send him as far away from Washington as possible."
Steele and his wife Phyllis reside in Ypsilanti. They have four children, a son and daughter in college and two daughters attending public schools.
Steele earned his undergraduate and medical degrees from the University of Michigan. He is campaigning on a message that he helped build Ann Arbor-based Michigan Heart PC into the largest heart clinic in Southeast Michigan with 36 physicians and 300 employees at eight locations.
The campaign said the poll released today was conducted Aug. 22-23 among 300 likely voters in the 15th Congressional District. The margin of error is 5.66 percent in 95 out of 100 cases, according to the polling firm.
Ryan J. Stanton covers government and politics for AnnArbor.com. Reach him at ryanstanton@annarbor.com or 734-623-2529.