Posted on
Tue, Feb 28, 2012 : 10:40 a.m.
Republican voters in Washtenaw County like Romney's business background, Michigan ties
By Ryan J. Stanton
Voters throughout Washtenaw County are slowly but surely trickling to the polls today to vote in Michigan's presidential primary.
And Michigan native Mitt Romney appears to be the most popular among those who spoke with AnnArbor.com outside polling locations after voting.
"He's a Michigan guy. That's very important, I think, for Michiganders, because he understands the conditions here," said Tom Paup, who voted shortly after 8 a.m. at the Pittsfield Township Community Center, 701 W. Ellsworth Road.
"He's a guy who has risen on his own merits," Paup added. "He's been very successful in business and toughed a governorship job in a very liberal state and performed well. He's the kind of guy we need to run the country because he knows how to get it done."
Polls opened at 7 a.m. and close at 8 p.m.
Voters heading to the polls today must request the ballot of the party whose primary they would like to vote in. There will be a public record showing which ballot they requested.
Democrats will see only one candidate on the ballot — Barack Obama — while Republicans have nearly a dozen names to choose from.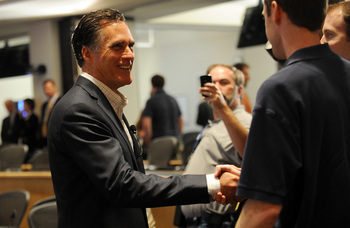 Melanie Maxwell | AnnArbor.com
That includes
Michele Bachmann
,
Herman Cain
,
Newt Gingrich
,
Jon Huntsman
,
Gary Johnson
,
Fred Karger
,
Ron Paul
,
Rick Perry
,
Buddy Roemer
,
Mitt Romney
and
Rick Santorum
.
Bachmann, Cain, Huntsman and Perry are no longer running but withdrew from the race after the state's deadline to get off the ballot.
Romney, son of a three-term Michigan governor and former auto executive, had been heavily favored to win his home state, but recent polls show him neck and neck with Santorum.
Both candidates have spent time campaigning in Michigan, though they've mostly stayed away from Ann Arbor except to hit the local market with ads and robo calls.
Pittsfield Township resident Chuck Stevens and his wife Alice spent this morning passing out Romney literature and bumper stickers at the polling location where Paup voted. There were multiple Romney signs on site but no evidence of any support for Santorum.
Stevens said he's heard a mostly pro-Romney response from voters coming in and out of the polling station.
"I think he's the right person," said Stevens, wearing a Romney hat. "He has experience in all aspects of government. It's really a good deal to get a businessman in there, especially a man from Michigan. Our man is Mr. Romney and I think he'll do good in Michigan."
Santorum had the support of at least one of the voters who cast their ballots at the Washtenaw Intermediate School District building in Scio Township early this morning. But that was from a Democrat who's hoping Santorum goes on to lose against Obama.
"I think the president is doing a good job overall, given what he inherited, so he's still my frontrunner, but today I'm supporting Rick Santorum," said Scio Township resident Lester Mitchell. "At this point, I'm siding with Obama for the general election, but I'll always keep an open ear to the other side, and I think that other side should be Rick Santorum."
It's been reported that a number of Democrats are expected to vote today for Santorum out of fear that Romney — considered the more moderate and more electable of the two — stands a better chance in November.
Scio Township resident John Zamora said he was going back and forth between Santorum and Romney before he voted today. He wouldn't say who he went with in the end, but he said he'll be glad if either of the two can beat Obama in November.
"I want somebody who's committed to their values and can turn the economy around and is consistent," he said. "That's not Obama. I didn't vote for him the first time either."
Romney, who was expected to be at his Michigan campaign headquarters in Livonia this morning, is holding an election night party in Novi.
Santorum was expected to appear at various poll locations near Grand Rapids today before holding his election night party at the Amway Grand Hotel.
Ed Golembiewski, the county's new elections director, said the county and its local clerks are well prepared today and he expects the primary will go smoothly.
"It's difficult to predict today's turnout due to unique political climate and the fact that the last time a Republican presidential primary was held while a Democratic president was seated was in 1996," he said, adding his best estimate is an 18-23 percent turnout.
"Given the Republican presidential primary is the only contested race, traffic will most likely be concentrated in areas we typically see higher Republican turnout, particularly the townships," he said. "The only other item on today's ballot is a special primary in county commissioner District 7, located within Pittsfield Township, but those candidates are running unopposed."
Ann Arbor City Clerk Jacqueline Beaudry said absentee ballot requests in the city were "really low." As of 7 a.m., less than 2,000 absentee ballots had been returned, she said.
Ryan J. Stanton covers government and politics for AnnArbor.com. Reach him at ryanstanton@annarbor.com or 734-623-2529. You also can follow him on Twitter or subscribe to AnnArbor.com's email newsletters.