Posted on
Thu, Sep 16, 2010 : 9:44 p.m.
Research spending at University of Michigan grows beyond $1 billion
By David Jesse
For the second straight year, research spending at the University of Michigan has topped $1 billion, Stephen Forrest, the university's vice president for research, announced Thursday at the Board of Regents meeting.
In total, research spending grew 12 percent in 2009-10 to $1.14 billion.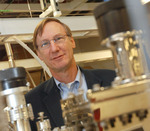 Federal research spending grew 14.7 percent over the previous year, thanks in large part to stimulus funding. Federal research accounted for 65.9 percent of total research spending at the university.
Funding from the National Institutes of Health increased 20.4 percent. NIH contributed more research funds to U-M than any other federal agency.
National Science Foundation research spending at U-M was essentially identical to last year, while Department of Defense research expenditures rose 2.5 percent.
Among non-federal sources of support, funding from public charities increased nearly 20 percent over the previous fiscal year.
Support from foundations grew 4.3 percent.
However, research expenditures from industry grants and contracts fell 9.3 percent compared to the previous year — from $43.3 million to $39.3 million.
"The fact that the total research expenditures rose at such a healthy rate reflects the continued competitiveness of our faculty when it comes to presenting research ideas," Forrest said in a press release handed out at the meeting.
In other action at the meeting, the Regents:
Approved reappointing Forrest to his role as vice president for research and Dave Munson as the Robert J. Vlasic Dean of Engineering at College of Engineering.
Approved more than $17 million in construction projects, including the Michigan Memorial Phoenix Laboratory addition and second-floor renovation, a new elevator in South Quad and auxiliary service building renovations for the School of Art and Design.
Heard a report on the 60 years of the Institute for Social Research.
Approved a new bachelor of science in bioengineering degree for the University of Michigan-Dearborn and a new education specialist degree for the University of Michigan-Dearborn.
David Jesse covers higher education for AnnArbor.com. He can be reached at davidjesse@annarbor.com or at 734-623-2534.