Posted on
Wed, Jan 23, 2013 : 1:37 p.m.
Dog park controversy: Residents urge Ann Arbor officials to reconsider canceled plan for West Park
By Ryan J. Stanton
One of the hottest issues at Tuesday night's Ann Arbor City Council meeting was an item not even on the agenda: A proposal for a near-downtown dog park.
Council members heard an outpouring of support for a new off-leash playground for pooches at West Park from a handful of residents who lined up to speak at the start of the meeting.
Residents expressed dismay that city officials had pulled the proposal from the council's agenda after concerns raised by New Hope Baptist Church. The church sits directly across from the Chapin Street entrance to West Park where a dog park was being considered until last week.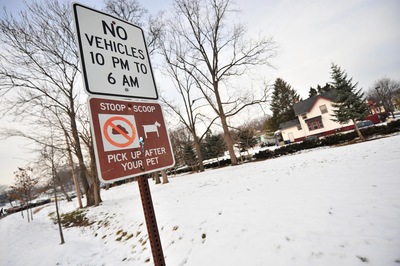 Ryan J. Stanton | AnnArbor.com
"I am very perplexed by the city's continued reluctance to establish neighborhood dog parks in Ann Arbor," said
Virginia Gordon
, a resident of Ann Arbor for more than 30 years.
"If some congregation members are afraid of dogs, and I truly believe they are sincere in that fear, then I say to the members of the New Hope Baptist Church, please be open to change," said John Lawter, a former parks commissioner who has led the effort for more dog parks in Ann Arbor.
"Let's break this culture of fear," Lawter added, calling fear "an ugly thing" that should be put down whenever possible.
Ann Arbor officials pulled the plug on the proposal after church leaders raised concerns not only about noise and safety, but also about what they considered deeply rooted cultural differences.
Leaders of the historically black congregation communicated to city officials that a number of the church's members were born in the South and have different attitudes about dogs, and they simply see a dog park as incompatible with their ability to worship freely.
"There's no reason why it has to be placed in an area that's going to be offensive to us as a people and as a church, and right now it's offensive," The Rev. Rodrick Green said earlier this month.
City Council Member Christopher Taylor, who serves as a council representative on the Park Advisory Commission, said the dog park issue a tricky one.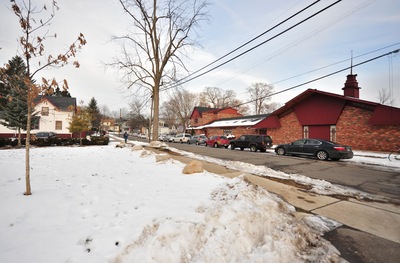 Ryan J. Stanton | AnnArbor.com
"Obviously dog parks are highly useful and needed throughout the city," he said. "We need more of them … and I know PAC is striving to get them when and where they can."
Taylor, who previously defended PAC's recommendation to put a dog park across from the church on a one-year trial basis, said he now supports the decision by the city's administration to reassess.
"This was a close case," he said. "Obviously there are many benefits to having a dog park in this location and many people who want it."
City Administrator Steve Powers said he sees it as a case where there's simply some additional time needed for further review. City officials say a near-downtown dog park remains a priority.
Ann Arbor has two-off leash dog parks: one at Swift Run in the southeast part of the city and one at Olson Park in the northeast part of the city. Residents who spoke at Tuesday's meeting said they'd prefer a neighborhood dog park they can walk to from their homes.
"I'm strongly committed to reducing my carbon footprint as much as possible and therefore I would never drive to a dog park," said Aina Bernier, lobbying for a dog park at West Park.
Multiple residents noted the Arise Church, a United Methodist congregation in Pinckney, established a two-acre dog park on its property and credits it with increasing church membership.
"We believe that God created people to be in community, and that we are at our best when we're in relationship to one another," the church's website reads. "Therefore, we provide this dog park not only as a fun safe place where dogs can get good exercise, but our greatest hope is that dog owners will make friends here and enjoy great conversations together."
Ann Arbor resident Harold Kirchen read that statement from the church's website at Tuesday's meeting and said that's been his personal experience at dog parks.
"I know the New Hope Baptist Church is saying the idea of a dog park and a church is completely incompatible," he said. "But these folks in Pinckney have grown their congregation by having people first come visit the dog park and then decide, 'Geez, these are good Christian values of inclusion, tolerance, charity and love,' and then they join the congregation."
Lawter said he believes members of New Hope Baptist Church are sincere in their concerns, but he still feels they are founded in a "gross misunderstanding of canine behavior." He said he's not comforted by the fact that city officials have vowed to look for an alternative site.
"As a former parks commissioner who has been working on this for years — and it has taken years — to get a central city site identified, I'm skeptical that an alternative will be found," he said.
Residents told council members having a dog park at West Park would be a great way to activate the space and build a stronger sense of community.
"We're the people who use parks," Kirchen said. "You get a critical mass of people out there and suddenly parks become safe. Suddenly you see mothers with baby strollers. You see women jogging where they wouldn't jog if it was a deserted park."
Missy Stults, who described herself as a relatively new resident of Ann Arbor and a new member of PAC, urged council members to think creatively about having more dog parks, as well as changing city ordinance to allow off-leash dog hours.
Ryan J. Stanton | AnnArbor.com
"We looked at some statistics and we know we have tens of thousands of dogs," she said. "We don't have enough space to accommodate all of those dogs, so we're going to need to get creative and find ways to serve our four-legged friends that also have a need in our community."
The presence of well-planned dog parks and off-leash hours, she said, would send a clear message that the city welcomes dog owners.
Gordon said many other cities that are larger and more complex than Ann Arbor have dog parks scattered throughout their neighborhoods, as well as off-leash hours in their major parks. She questioned how the city can have so many parks and only two dog parks on the outskirts of town.
Lawter said he thinks the proposal to construct a dog park at West Park as a temporary facility that can be removed after a year if it's a problem is a fair compromise.
"Let it go in," he said. "Take it out if it becomes a nuisance."
If anyone is concerned the dogs will be smelly, dangerous or bark incessantly, Lawter said he encourages them to visit either of the city's two existing dog parks.
"The people who will take the time to go to a dog park are not the people who own dangerous, dirty, obnoxious dogs," he said, adding the people who use dog parks self-police.
"Ann Arbor is a culturally diverse city," he concluded. "Our dog owners are a culturally diverse group, and our parks should be open to all cultures, including the four-legged variety."
PAC Chairwoman Julie Grand said she's still hopeful a near-downtown dog park could open this year. She said there's talk of using another part of West Park farther away from the church.
Green reiterated his congregation's concerns on Wednesday, and once again clarified the church wouldn't be opposed to a dog park at another location.
"We have no objection to a dog park in central Ann Arbor at all, even in West Park, but we definitely would not appreciate it in front of the church at the location they had proposed," he said. "We're not anti-dog and we're not anti-dog park. We're just anti-dog park for the location that was proposed."
Green said West Park is a big park so there are other options for the city to consider. As for the church in Pinckney that's making a dog park work on its own property, Green remarked: "If that works for them, God bless them. I don't think that would work for us, though."
Ryan J. Stanton covers government and politics for AnnArbor.com. Reach him at ryanstanton@annarbor.com or 734-623-2529. You also can follow him on Twitter or subscribe to AnnArbor.com's email newsletters.