Posted on
Sat, Jun 18, 2011 : 2:52 p.m.
Ann Arbor Restaurant Week 'a terrific success'
By Lisa Carolin
Ann Arbor's "Restaurant Week" is a great excuse to try a new restaurant, and that's exactly what numerous people did this past week at 45 local eateries.
It was the fifth such event since January 2009 and, according to many of those involved, it was a success.
"Business was fantastic," said Ryan Gillies, an owner of Logan, located on West Liberty Street. "We were solidly packed with reservations, which is a great problem to have."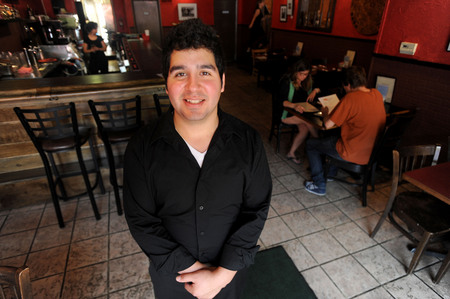 Angela J. Cesere | AnnArbor.com
Gillies says that the best part of Restaurant Week is that it brings in new customers.
"It's a chance to try us out without spending as much money," he said.
Participating restaurants created $12 lunch menus and $25 dinner menus many with multiple courses.
"It was a terrific success for a new restaurant like ours because it gave us lots of exposure and introduced customers to our wood fire pizzas and homemade pastas," said Phillip Kitchell, manager of Mani Osteria on East Liberty Street.
Kitchell said that many customers took time to fill out comment cards.
"The feedback was very kind this week, the best we've had since we opened," he said.
Ann Arbor Restaurant Week ran from Sunday through Friday. Many restaurant owners and managers were pleased with the increased business it brought in on typically slow days like Monday and Wednesday.
"We had a really good turn out on the slow days and our normally busy days like T3 (tequilla, taco and Tecate beer specials) Tuesday were even busier," said Anthony Ventura, manager of Sabor Latino.
"Restaurant Week has far exceeded anyone's expectation," said Maura Thomson, executive director of Main Street Area Association, a nonprofit business association. "It's a vehicle to bring people downtown during times that are historically slow like January and June."
"June is the slowest month of the year at The Earle so this is a good boost for business," said Shelley Coughey Adams, chef at The Earle, who showcased five customer favorites from The Earle's rotating menus. "It's been very busy every day and our volume is much greater than usual. Hopefully they'll keep coming back."
Thomson says that Restaurant Week has now been expanded to include restaurants outside downtown because of the number of people participating. Restaurants like Metzgers, which moved from downtown Ann Arbor to Zeeb Road in Scio Township several years ago, participated in its first Restaurant Week with positive results.
"Our business is up 30 percent this week at both lunch and dinner," said owner John Metzger, "We've had a lot of new customers coming in and not just from Ann Arbor, but from Jackson, Chelsea and Livonia. We'll definitely do it again."
Thomson has already scheduled the next Ann Arbor Restaurant Week for Jan. 15-20, 2012.