Posted on
Tue, Jan 29, 2013 : 5:59 a.m.
Resurfacing of Ann Arbor-Saline Road pushed back to 2014
By Amy Biolchini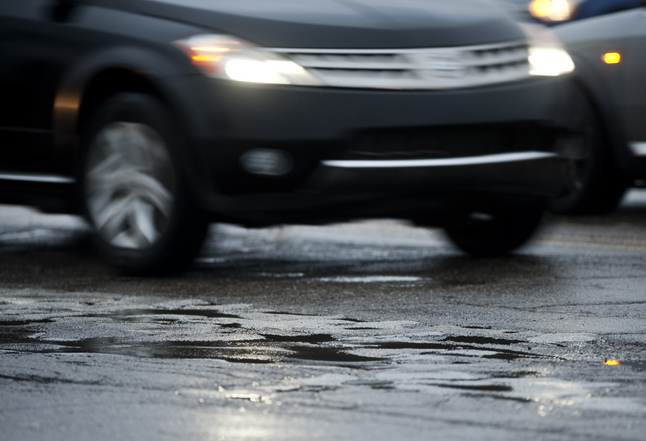 Daniel Brenner | AnnArbor.com
Resurfacing of Ann Arbor-Saline Road
over
Interstate 94
at the edge of Ann Arbor has been pushed back to 2014 after the
Michigan Department of Transportation
could not find the funding to make the project happen this year.
The project has been in the planning process since 2011 and is a partnership between MDOT, the Washtenaw County Road Commission and the city of Ann Arbor.
A year ago, the project won a $372,960 grant through the state's Transportation Economic Development Fund. At that time the plan was to begin construction in May 2013.
However, MDOT couldn't find the $200,000 to $300,000 in its 2013 budget to fund its portion of the $1 million project, said Roy Townsend, director of the WCRC.
Kari Arend, spokeswoman for MDOT, confirmed that the resurfacing project is on MDOT's 2014 schedule.
The heavily-traveled roadway serves just as its name implies -- as a main connector in a commercialized corridor between Saline and Ann Arbor. It's also riddled with potholes.
The resurfacing will be paid for by the city, the road commission and MDOT in three separate pieces according to ownership.
The state owns the overpass, the city owns the roadway north of the bridge and the road commission owns the roadway south of the bridge.
The city and road commission are responsible for approximately $700,000 of the project, Townsend said. With the grant money, both are left with a $327,000 bill to split.
Each of the three entities in the partnership has to find funding and secure permits for the project they have ownership over. The road commission will be coordinating all of the funding and managing the project so that one contractor will be hiring for the work.
MDOT is considering incorporating bike lanes and sidewalks into the overpass, Townsend said.
On the bright side, Townsend said the delay means people traveling to and from Saline will not have to deal with two major construction projects this summer, as construction of a roundabout at State and Ellsworth roads will begin in June.
AnnArbor.com photographer Melanie Maxwell took her camera to the street Monday to see the potholes up close and personal.
In this video clip, she drove south on Ann Arbor-Saline Road across the overpass in the left lane. Let us know what you think of the road's condition in the comments.
Amy Biolchini covers Washtenaw County, health and environmental issues for AnnArbor.com. Reach her at (734) 623-2552, amybiolchini@annarbor.com or on Twitter.