Posted on
Fri, Sep 6, 2013 : 5:59 a.m.
Return of Notre Dame night game means extra police officers patrolling Ann Arbor
By Ryan J. Stanton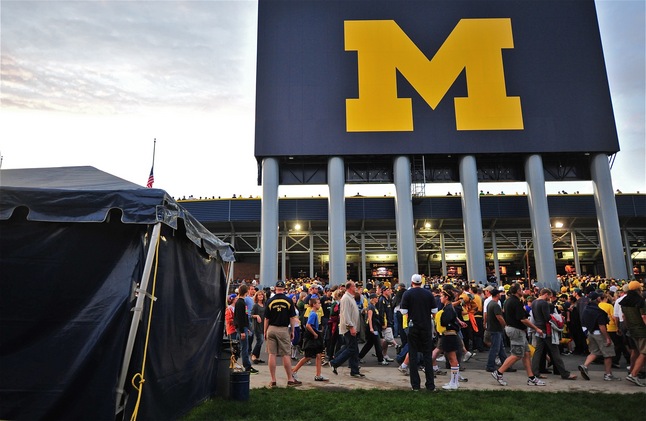 Ryan J. Stanton | AnnArbor.com
Ann Arbor Police Chief
John Seto
says the public can expect heightened police enforcement for the
return of the Notre Dame night game
on Saturday.
"With the Notre Dame night game two years ago, after the game it was quite busy because of the atmosphere and the crowd, so we'll keep extra officers out here patrolling," he said.
Ryan J. Stanton | AnnArbor.com
It's been two years since the University of Michigan held its first-ever night game at Michigan Stadium — also against Notre Dame — in September 2011.
The Wolverines beat the Fighting Irish 35-31 that night, with Denard Robinson throwing a last-minute touchdown pass to Roy Roundtree.
Naturally, that was reason for thousands to celebrate, and it was a festive scene throughout Ann Arbor until the early morning hours the following day.
Local taxicab drivers recall people who were out partying and bar-hopping until 2 a.m. were still downtown trying to hail cabs around 6 a.m.
With kickoff at 8 p.m., instead of noon or 3:30 p.m., a prime-time game at the Big House also allows students and football fans several extra hours to party and tailgate beforehand.
Ann Arbor police issued 94 alcohol-related citations and nine noise violations during pre-game activities for the Notre Dame game in 2011.
After the game ended, Ann Arbor police issued 33 more alcohol-related citations and eight noise violations during nighttime party patrol.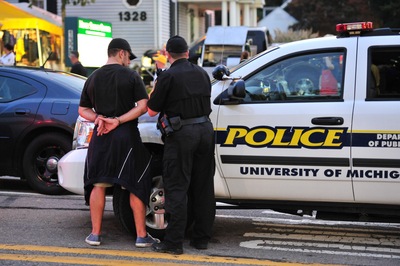 Ryan J. Stanton | AnnArbor.com
Those numbers — 144 citations total — are considerably higher than the averages for the other seven home games in 2011 when just under 50 citations were issued per game.
Broken down, that's 7.4 noise violations and 32.3 alcohol-related citations pre-game, and 3.4 noise violations and 6.7 alcohol-related citations afterward for the other games.
"Since Notre Dame was a night game, pre-game enforcement was for a longer period of time," Seto said. "It began six hours before kickoff when the general time for pre-game enforcement is three hours for a noon kickoff. That's twice as much enforcement time."
Seto said it's possible there might have been different staffing levels for each game. And he said it's important to note the Notre Dame vs. U-M matchup occurs in the early part of the season when celebratory activity is at its highest because of the warmer weather.
Nonetheless, Seto said, he doesn't doubt that a Notre Dame night game brings on more enforcement action.
The University of Michigan Department of Public Safety's game-day detail made 14 arrests, issued seven citations and ejected 23 other people from the stadium when Notre Dame visited in 2011.
There were five arrests for disorderly conduct, three for stealing a golf cart, two for minors in possession of alcohol, one for assault and battery, one for resisting and obstructing police, one for larceny and one for domestic assault. There also were four citations written for having alcohol in the stadium, two for unauthorized entry, and one for possessing somebody else's ID.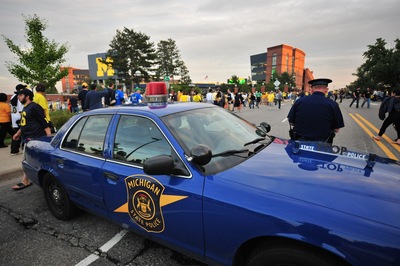 Ryan J. Stanton | AnnArbor.com
The other 23 people who had run-ins with university police were ejected from the game for reasons ranging from disorderly conduct to having alcohol in the stadium, urinating in public in the stadium, and throwing projectiles.
As for the city's plan for Saturday, with the game once again starting at 8 p.m., Seto said there will be an appropriate police presence, but he can't disclose specifics about staffing.
"However, I can say the plan is similar to our deployment in 2011," he said. "The only difference that I can add is that due to our efforts this year with monitoring and addressing traffic flow in the neighborhood just west of the Michigan Stadium, additional officers will be patrolling this area."
Seto noted the traffic control plan was slightly different for the Notre Dame night game in 2011, with Main Street shut down in front of the Big House three hours before the game.
This year, the northbound lanes will close three hours before the game, but the southbound lanes will remain open until one hour prior to kickoff.
"There were a lot of preparations two years ago, and there are a lot of preparations this year," Seto said. "So some of the added issues we may experience may be mitigated by some of our planning."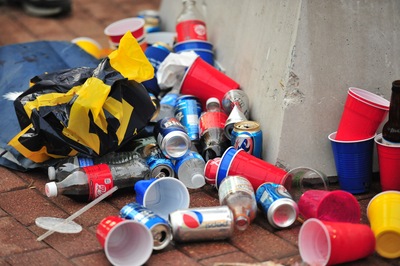 Ryan J. Stanton | AnnArbor.com
Seto believes the amount of post-game activity on Saturday will have more to do with the fact that Notre Dame draws a big crowd to town, and less to do with the start time of the game.
"On any Saturday night, whether it's Notre Dame or any other game, there's going to be activities that go until 2 or 3 in the morning, so I'm not sure the late game had that much of an effect on the post-game activity," he said. "I mean, even when we had Notre Dame on the noon and 3:30 p.m. game start times, it was pretty busy afterward."
City Administrator Steve Powers agreed.
"It'll be more just the crowd and the size of the event," he said. "We do have some experience with larger events when Michigan State, Ohio State and Notre Dame come in."
Powers said the city has a plan in place to hit the streets with street sweepers after the game to get rid of trash and litter left behind.
Ryan J. Stanton covers government and politics for AnnArbor.com. Reach him at ryanstanton@annarbor.com or 734-623-2529. You also can follow him on Twitter or subscribe to AnnArbor.com's email newsletters.