Posted on
Thu, May 19, 2011 : 4:58 p.m.
Snyder, Republicans say they've agreed on 'spending targets' that would balance Michigan budget
By Nathan Bomey
Gov. Rick Snyder and Republican legislative leaders said this afternoon that they had agreed to specific "spending targets" that would set the stage for a balanced state budget for 2011-12 and 2012-13.
"Today we're doing a budget that is absolutely fiscally responsible and financially sound," Snyder said at a press conference in Lansing. "It's not just about spending money. It's about delivering results in a financially responsible way."
Legislators still have to agree on specific bills and other details, but a deal on spending targets means a finalized budget isn't far off.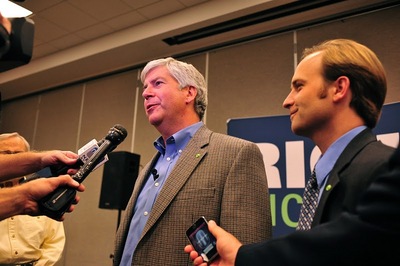 Ryan J. Stanton | AnnArbor.com
The announcement comes after Lansing fiscal analysts said Friday and Monday that they expect the state to collect between $400 million and $700 million more in revenue in 2010-11 and 2011-12 than they had previously projected.
With that knowledge, the Republican leaders today announced plans to place $255 million into a "budget stabilization fund" and $133 million into a reserve fund to help pay off future retirement costs for schools.
"The budget we are working toward is a solid building block for Michigan's future. Coupled with the recent tax overhaul, this fiscally disciplined, structurally balanced budget will let investors and job providers know that Michigan's house is in order," Snyder said in a statement. "Restoring this fiscal integrity creates an economic environment that leads to more jobs for Michigan workers. While healthy discussion will continue in the coming days, there's no doubt that the culture change in Lansing is providing Michigan families with the responsive government they expect and deserve."
The deal announced today would restore $310 million in funding for public school districts that agree to use the funds to cover retirement costs and agree to certain standards the administration has labeled as "best practice measures." That means the per-pupil cut would be $270 — which includes a $170 per-pupil cut approved under former Gov. Jennifer Granholm that won't be restored.
Snyder spoke to reporters with Lt. Gov. Brian Calley, Budget Director John Nixon, Republican House Speaker Jase Bolger and Republican Sen. Majority Leader Randy Richardville.
The officials said they had agreed to reduce the amount of state employee concessions they're seeking to $145 million. The previous target was $180 million.
They said they had agreed to provide $50 million to the Michigan Economic Development Corp.'s Michigan Strategic Fund for various incentives, including brownfield redevelopment and historic preservation.
The spending targets include a separate pool of $25 million in incentives for the film industry, equal to Snyder's original proposal. That's down from $117.2 million in incentives distributed to the industry in 2010 through the state's unlimited film tax credit.
Snyder has set May 31 as a deadline to complete a budget for the 2011-12 fiscal year, which starts Oct. 1.
All Democrats in the Senate and House are expected to vote against the Republicans' budget, but that's not enough to stop it because Republicans control both chambers.
The deal comes after the state Legislature last week voted to eliminate the controversial Michigan Business Tax and replace it with a 6 percent corporate income tax that exempts most small businesses, leading to a $1.7 billion business tax cut.
That legislation also adopts a phased-in pension tax, reduces the Earned Income Tax Credit for low-income workers and eliminates charitable giving credits.
State Sen. Minority Leader Gretchen Whitmer, D-East Lansing, today slammed Snyder and said she was "begging" Republican legislators to vote to preserve K-12 funding.
"We all know that Rick Snyder is 'one tough nerd.' I mean, he spent millions of dollars of his own money telling us that, and it seemed to resonate with Michigan voters," Whitmer said in a fiery statement today on the Senate floor in Lansing. "But I think, in general, people also believed he was a nice guy. But it begs the question: Do nice guys take money from schoolkids to give business tax breaks? Do nice guys wage a tax increase on retirees living on fixed incomes to give business tax breaks?"
Whitmer said Snyder had not demonstrated that the business tax cut would create jobs.
"He can't point to one iota of a metric to prove it will spur job growth or state investment," she said. "Lately I've felt like I'm living in an alternate universe. When the heck did Republicans become the tax and spenders? For those of you keeping track, it's 2011."
Bolger, R-Marshall, said the budget rejects the "status quo."
"It's time to hit the reset button. It's time to address the state's realities and get our state on that path to success," Bolger told reporters. "It is a new era in Michigan, an era of responsibility, an era of accountability."
The state Senate last week also passed a bill that would require public school workers to pay 20 percent of their health care premiums when new contracts are negotiated.
Contact AnnArbor.com's Nathan Bomey at (734) 623-2587 or nathanbomey@annarbor.com. You can also follow him on Twitter or subscribe to AnnArbor.com's newsletters.