Posted on
Mon, Nov 8, 2010 : 11:50 a.m.
Rick Snyder names Andy Dillon as treasurer, Dick Posthumus as senior advisor
By Heather Lockwood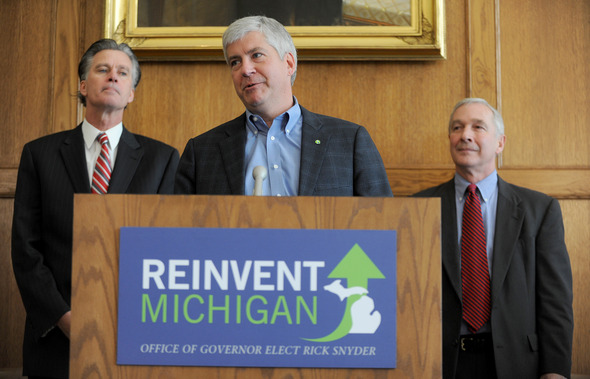 Angela J. Cesere | AnnArbor.com
Governor-elect Rick Snyder announced at a press conference today that former Republican Lt. Gov. Dick Posthumus will serve as senior advisor and Democrat House Speaker Andy Dillon will serve as treasurer in his administration.
The announcement was made at about 11 a.m. at the University of Michigan Gerald R. Ford School of Public Policy, 735 S. State St.

"We are putting together a diverse team with unparalleled legislative and private sector experience," Snyder said in a news release put out by his office. "Dick Posthumus has as much or more knowledge of how state government works than anyone in Michigan, and he also knows what it takes to run a business. Andy Dillon knows the budget inside and out and has repeatedly shown his willingness to work across the aisle to make tough decisions."
Posthumus, former CEO of Grand Rapids-based furniture manufacturer Compatico and a member of the Michigan Chamber of Commerce board of directors, served as Senate majority leader for eight years before serving as lieutenant governor to former Gov. John Engler.
And Dillon is serving his second term as Speaker of the Michigan House of Representatives and his sixth year as a state representative from Redford, according to the release.