Posted on
Mon, Apr 9, 2012 : 9:55 a.m.
Rick Snyder recall group seeks petition approval in Washtenaw County
By Cindy Heflin
A group seeking to recall Gov. Rick Snyder was set to go before a Washtenaw County elections panel Monday seeking approval of language on its recall petition.
The hearing on the petition from Michigan Rising was scheduled at 1:45 p.m. Monday before a panel consisting of County Clerk Larry Kestenbaum, County Treasurer Catherine McClary and Washtenaw Circuit Court Judge Donald Shelton.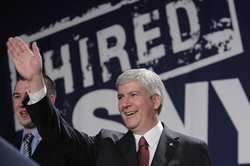 The effort is the group's second attempt to recall the governor. The first one failed last year to collect the required number of signatures, about 800,000.
The hearing, held in Washtenaw County because that is the governor's county of residence, will only determine whether the recall language is clear. The panel makes no judgment about whether the reasons stated justify a recall. The petition language submitted states:
"Governor Snyder has abused the children of Michigan. He cut thousands of children off food aid. He robbed $400 million from the School Aid Fund, then slashed school payments. This forced children into crowded classes. Then he signed more laws that privatize services, attack teachers and blame unions. Snyder raised taxes on retirees and low and middle income working people, to make them pay $2 billion a year. At the same time, he gave an 86% tax cut, $1.7 billion, to large corporations. Snyder signed Public Act 4 of 2011, the Emergency Manager Law. Snyder used the law to take over cities and school districts. Snyder removed officials elected by the citizens. Snyder's agents broke contracts and sold off public property cheaply to corporations.

"Richard Snyder has failed to pass a single law that helps Michigan citizens get jobs. He signed a law that cut state unemployment benefits from 26 to 20 weeks, and caused Michigan workers to lose 16 weeks of federal benefits."
If the petition language is approved, Snyder will have 10 days to appeal the decision.
A spokesman for Snyder told Michigan Radio he expects this attempt, like the previous one, will fail because people will see he is making tough-but-necessary choices.