Rick Snyder's staff met with Camp Take Notice protesters at mobile office hours in Ann Arbor
Posted on Wed, Jun 27, 2012 : 3:18 p.m.
Angela J. Cesere | AnnArbor.com

Members of Gov. Rick Snyder's staff received an unfriendly welcome on their visit to downtown Ann Arbor on Wednesday. Dozens of supporters of Camp Take Notice rallied to protest the recent eviction of the homeless encampment from Michigan Department of Transportation land.

During June and July, Snyder's constituent relations team is holding several "mobile office hours" per day throughout the state and were scheduled to meet at the TeaHaus, 204 N. Fourth Ave., on Tuesday from 10 a.m.-noon.

With protesters lining the street and lying on blankets as a demonstration of the homeless problem in Washtenaw County, the meeting had to be moved down the street to an open courtyard.

According Snyder's official website, the mobile office hours are an opportunity to "discuss and register positions on issues" with information available on the budget and ways to get more involved in state government, and the ongoing reinvention of Michigan.

Wednesday's office hours were dominated by the Camp Take Notice issue.

"We're down here to protest the eviction of Camp Take Notice and bring greater visibility to homeless issues in Washtenaw County and Michigan at large," said Arthur Endsley, who serves on the board of Michigan Itinerant Shelter System-Interdependent Out of Necessity (MISSION), a nonprofit organization that helps support the tent city.

Residents of Camp Take Notice were recently forced to leave the MDOT parcel of land in Scio Township they have inhabited for two years. While many former campers are currently staying at the Delonis Center - downtown Ann Arbor's homeless shelter - and in line to receive housing subsidies from the Michigan State Housing Development Authority, there hasn't been room to house everyone.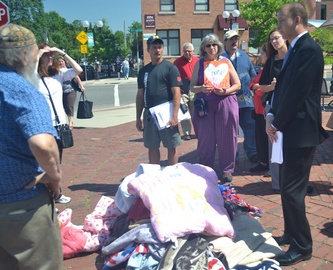 Photo courtesy of Brian Nord
After several MISSION board members, campers and supporters of the camp spoke to
Steve Sachs
, manager of constituent relations for Snyder's staff, about homeless issues and the plight of former campers, blankets were stacked in front of him to signify the number of people who are being turned away from the shelter.
According to several accounts, several former campers have been turned away from the Delonis Center and have been handed a blanket and instructed to seek out public space for the night.
"That's not acceptable. Camp Take Notice was designed to, and did, accommodate to these people when none of the other service agencies in the area had any room for them and now there's no place for them to go," Endsley said. "(Lying on blankets on the sidewalk) is literally what it's like for the homeless community now, that's their home now."
Ellen Schulmeister, CEO of the Delonis Center, confirmed that there hasn't been room to accommodate everyone despite increasing the shelter's capacity to warming center capacity to accommodate former campers waiting on housing subsidies.
"If we don't have room for you tonight and you need to get through the night, we may give you a blanket and we may give you a sleeping bag, or we may give you whatever we have to help you with for the moment if we don't have room… We do whatever we can to hook someone up with what is necessary at the moment." Schulmesieter said. "(When a person is turned away for the night) that doesn't mean we're not going to help them. We do have services only where we work with people until we can get them a bed if they need a bed."
Contact Pete Cunningham at petercunningham@annarbor.com or by phone at 734-623-2561. Follow him on Twitter @petcunningham.