Posted on
Sun, Dec 9, 2012 : 10:46 p.m.
Right-to-work opponents to sing Christmas carols outside Gov. Rick Snyder's home near Ann Arbor
By Ryan J. Stanton
A group of labor supporters is hoping Gov. Rick Snyder will be moved by the Christmas spirit Monday night and reverse his stance on controversial right-to-work legislation.
Following chaotic protests at the state Capitol last week, We Are Michigan has announced plans to sing Christmas carols near Snyder's home just east of Ann Arbor.
"While Michigan families struggle, Gov. Snyder's neighbors hope that the Christmas spirit will reach through the gates of his Superior Township mansion and move the governor to reconsider his support for this extreme legislation backed by corporate CEOs and the ultra-rich, leaving working families behind in the process," the group stated in a news release Sunday night.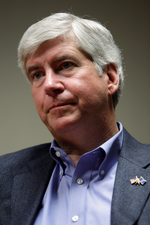 Dave Kreisman
, a spokesman for the group, said he's expecting several dozen local residents to gather at about 5:30 p.m. Monday just outside Snyder's gated community at the corner of Geddes Road and Valleyview Drive in Washtenaw County's Superior Township.
"We're hoping the governor will hear the sounds of the season down the road and think twice about signing this legislation," Kreisman said.
Snyder, who previously called right-to-work a "divisive issue" and said he didn't want it on his agenda, pledged his support for making Michigan a right-to-work state last week. The legislation is now quickly working its way through the Legislature during the lame duck session.
The legislative package the Republicans hope to finish up and ship to Snyder's desk this week would give workers the right to avoid paying union dues. In other words, it would be illegal to require financial support of a union as a condition of employment. The bills working their way through the Legislature cover all public and private workers except police and firefighters.
Snyder and Republican leaders argue workers should have a choice whether to financially support a union. Democrats and labor supporters call it a heavy-handed attack on unions and argue it deprives unions the ability to fairly collect dues from those who benefit from the bargaining process.
Labor supporters also cite statistics that show employees in right-to-work states make 3.2 percent less than workers in free-bargaining states, or about $1,500 less per year.
Unlike a march to Snyder's home earlier this year in protest of Michigan's controversial emergency manager law, Kreisman said Monday's demonstration won't impact traffic in any way. He said there won't be any protesters bused in from other communities like there were back in January.
"We're going to be off the road and making sure there won't be any backups," he said, adding it'll be a peaceful demonstration.
We Are Michigan describes itself as a coalition of faith, community, labor and progressive groups united by a common commitment to strengthening Michigan's middle class. Among its members are public and private sector union workers with the Michigan AFL-CIO, Service Employees International Union and the American Federation of State, County and Municipal Employees.
A spokesperson for Snyder could not be reached Sunday night.
Workers from across Michigan and other parts of the country are gearing up for a day of action in Lansing on Tuesday and asking supporters to wear read on Monday to show support.
Ryan J. Stanton covers government and politics for AnnArbor.com. Reach him at ryanstanton@annarbor.com or 734-623-2529. You also can follow him on Twitter or subscribe to AnnArbor.com's email newsletters.