Posted on
Mon, Oct 15, 2012 : 5:57 a.m.
Washtenaw County Road Commission facing winter with aging trucks and a small crew
By Amy Biolchini
Editor's note: This story has been edited to reflect Washtenaw County has four maintenance yards.
Though last year was a mild winter for southeast Michigan, Washtenaw County's resulting salt surplus won't put the Road Commission too far ahead going into winter.
Aging trucks and a hiring freeze for the short-staffed Road Commission mean crews will do the best with the resources they have to salt and plow roadways during the winter months, said Jim Harmon, director of operations.
"We want the public to have a realistic expectation. Because we have staffing challenges and an aging fleet, the level of service delivery will be affected," Harmon said. "This is something our board is grappling with: How do we pay for all of this, as the cost of doing business continues to increase?"
The Road Commission recently renewed its annual contract with the Michigan Department of Transportation to maintain state highways, including I-94, M-14, US-23, US-12, M-52 and M-153.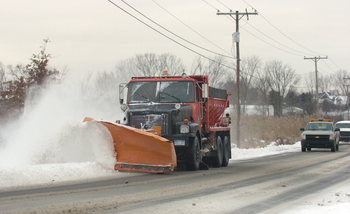 File photo | AnnArbor.com
The two parties have had an agreement for the county to perform winter maintenance on state-owned roads since July 1946.
For plowing and salting roads during the winter, the Road Commission works on a priority system, clearing state lines first and then high-volume paved roadways. Medium volume paved roads are cleared next, followed by subdivision streets and then gravel roads.
"Subdivisions and unpaved roads are not approached until the first three are done," Harmon said.
The Road Commission authorizes overtime hours to clear subdivision streets and gravel roads only when there is an accumulation of four inches of snow, an ice storm, or blowing and drifting snow that interferes with traffic flow.
The Road Commission also has a four-person night patrol that is on duty from 8 p.m. to 4:30 a.m. Sundays through Thursdays from late November to mid-March to deal with snow and ice conditions on state-owned routes. That patrol is funded by MDOT.
For the 879 miles of paved roads in Washtenaw County, crews use about 19,000 tons of salt per year.
The county buys its salt through the state's bulk purchasing program. This year, the Detroit Salt Company has been awarded the bid.
The Road Commission ended last winter with 10,000 tons of salt on hand. On Oct. 12 they received their first delivery of salt this season - 3,000 tons. The county's contract allows for a second delivery of 6,000 tons later in the season should the need arise.
Because of the mild winter, the Road Commission came in about $250,000 under its salt budget as of mid-February and planned to use those funds to repair roads over the summer. However, those funds - plus about $50,000 - went towards response and recovery work after a tornado hit the Dexter area in mid-March.
The county has four facilities from which it dispatches its crews, and is wrapping up improvements to its service center in Manchester. The Road Commission has also recently acquired property off of North Territorial Road in Northfield Township where it would like to build another maintenance yard, but has no formal plans or funding to do so at this time.
The Road Commission has divided all the roads in the county into 46 snow routes, for which it has 46 trucks.
The fleet, which should be on a 10-year replacement cycle, is on a 25-year replacement cycle. Harmon said trucks are prone to breaking down, and many of the parts needed to fix them are unavailable or have long delivery times.
The operations department has 15 vacancies - mostly due to retirements - and three workers off because of injuries.
Four of those vacancies are mechanics, one of which is on medical leave. There are three mechanics on staff currently, and the Road Commission has authorized the hire of two more mechanics.
Eleven of the vacancies are drivers, two of which are on medical leave. The Road Commission is allowed to hire only one driver for the winter season, Harmon said.
Because of the hiring freeze, Harmon has just 52 operations workers to face the winter season. Of the 52, four are allocated strictly to night patrol operations, leaving 48 to handle daytime shifts.
Of those 48 workers, two work in yards loading the trucks with salt, leaving 46 employees to handle the 46 snow routes.
"Then five or six people that might be off or be ill. That gets me down to 40 (employees)," Harmon said. "There is no slack, no backup."
Harmon said there is a chance workers will need to work more overtime hours to clear roads, and they will be particularly challenged if consecutive storms hit the county.
When the weather provides too much for the Road Commission's crews to handle, Harmon said the county can choose to contract with private companies - usually construction crews - to help clear subdivisions.
Harmon said that's typically a rare occurrence and only happens in blizzard-like conditions when the county crews are focused on clearing main routes and can't reach residential roads within several days.
"We have an incredible group of employees. They're part of this community. They are experienced professional operators," Harmon said. "They're all going to do the best they can under the circumstances."
Amy Biolchini covers Washtenaw County, health and environmental issues for AnnArbor.com. Reach her at (734) 623-2552, amybiolchini@annarbor.com or on Twitter.