Posted on
Tue, Nov 8, 2011 : 5:58 a.m.
Road Commission facing winter with aging fleet, potential lack of experienced operations employees
By Lisa Allmendinger
Editor's Note: This story has been updated to correct information about the recomended equipment replacement.
This winter, the Washtenaw County Road Commission is bracing for the possibility of a double whammy.
Its operations department, which handles snowplowing and sanding, is readying for winter operations with an aging fleet of vehicles and the possibility of as many as 10 employees retiring before the end of the year.
With an "unmet liability of $7.5 million for replacement vehicles and no substantial additional funding from the state and federal governments in sight, the Road Commission could be facing slick and bumpy roads ahead.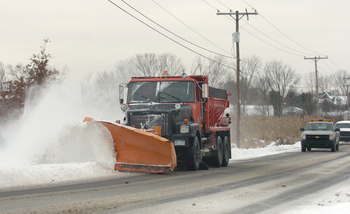 On Jan. 1, new state health care and pension mandates go into effect, so it's possible that up to 10 longtime Road Commission employees may choose to retire "which will leave a huge void in operations," officials said. They will have to be replaced by less experienced drivers who don't know the terrain as well as the experienced drivers.
"We need more funding for a sustainable fleet," said Jim Harmon, director of operations.
Officials said the employees take pride in the Road Commission vehicles and are doing everything possible to maintain the aging fleet but only so much can be done with equipment that has met or exceeded its lifespan. The Road Commission has 150 pieces of road equipment that includes 51 heavy trucks — considered "the universal work vehicle" for scraping, plowing, salting, sanding and patching roads — and 16 mower tractors.
During a storm, 46 of the 51 heavy trucks are deployed, Harmon said, and four are left in reserve should there be a problem. The recommended average age for the heavy truck fleet is five years. The recommended replacement for the heavy trucks is 10 years or 100,000 miles.
The average odometer reading for these trucks is 97,000 miles, and the recommended average average odometer reading for the heavy fleet is 50,000. In 1995, it cost about $72,000 to replace one of these vehicles; today, the cost is $150,000.
"The overdue replacement cost is $3.9 million," Harmon said of the heavy truck fleet.
With dwindling resources, instead of replacing the recommended five pieces of equipment per year, the Road Commission systematically replaces just two. "As our fleet gets older, we spend more money on repairs … it becomes a hole in the ocean to pour money into," said Chairman Doug Fuller.
And, without functioning equipment, the roads don't get plowed, paved or scraped.
"This is a mechanized agency," Harmon said, adding, "It's vital to have reliable equipment for our core services."
Road Commissioner Ken Schwartz recently toured one of the yards and observed employees "are painting over rust (in an effort to prolong a vehicle's life). I don't know how long these vehicles will last."
The 11 motor graders, the second most important piece of equipment for the Road Commission, have an average age of 8.3 years, while the average age for a motor grader fleet is six years. A motor grader is recommended for replacement at 12 years of 12,000 hours. The total current cost for overdue replacements of these vehicles is $750,000.
Later this month, the Road Commission will hold a work session to discuss its budget for next year, and it's expected that the replacement cost of $320,000 for three vehicles will be included in the operation's budget. Requested are two tandem dump trucks at an estimated cost of $150,000 each and a three-quarter ton pickup at an estimated cost of $20,000.
One of the dump trucks slated for replacement has about 151,500 miles on it, and the other has about 126,000 miles on its odometer.
These vehicles were chosen based on the allotted $325,000 per year in the capital improvement plan, the critical nature of the need, condition, age, maintenance and operational costs and depreciation.
Harmon said that at least $1.2 million is needed per year to get the Road Commission's fleet in proper working order.
"This equipment is essential to fulfilling the (Road Commission's) mission," according to a fleet replacement report presented Tuesday afternoon.
Lisa Allmendinger is a regional reporter for AnnArbor.com. She can be reached at lisaallmendinger@annarbor.com.