Posted on
Fri, Oct 15, 2010 : 3:26 p.m.
Road commission hosts ribbon-cutting ceremony on Huron River Drive
By Heather Lockwood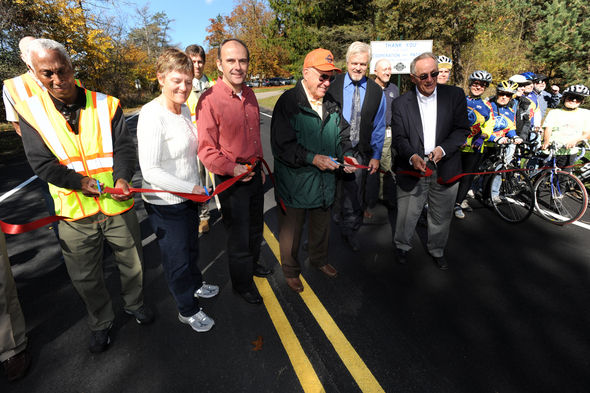 Lon Horwedel | AnnArbor.com
A fundraising effort by area cyclists and residents to raise $30,000 to help repave a portion of Huron River Drive in Ann Arbor exceeded its goal, bringing in more than $45,000 in donations.
Ted Green, CEO of Greenview Data Inc. and a member of the Ann Arbor Bicycle Touring Society, said he and others involved were pleasantly surprised by their success. The money raised by the community helped fund the repaving of a portion of Huron River Drive — a popular, scenic route among area cyclists deemed too dangerous to ride by some due to potholes and rough patches.
To celebrate the work done, the Washtenaw County Road Commission held a ribbon-cutting ceremony at 2 p.m. Thursday on Huron River Drive near Tubbs Road.
"The Road Commission double matched our $45,000, and the Parks and Recreation Department kicked in another $50,000 for bike lanes," Green said. "In the end, it's $185,000 (worth) of repaving that would not have happened otherwise."
Heather Lockwood is a reporter for AnnArbor.com. Reach her at heatherlockwood@annarbor.com or follow her on Twitter.