Posted on
Thu, Sep 20, 2012 : 5:55 a.m.
Washtenaw County Road Commission plan includes $36 million in projects over 5 years
By Amy Biolchini
About $36 million worth of road construction projects are on the draft version of the Washtenaw County Road Commission's updated five-year capital improvement plan.
The Road Commission reviewed the 2013-2017 plan and its potential effects on the commission's 2013 and 2014 budgets in a working session Tuesday afternoon. Worst-case scenarios put the Road Commission's 2014 ending fund balance extremely close to the $4.5 million floor that the department previously set as the minimum balance.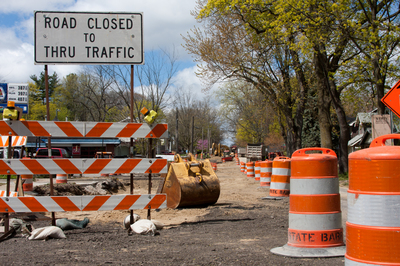 File photo | AnnArbor.com
The 2012-2016 plan included $28.7 million in capital improvement projects. Several of those look like they will get some action in 2013, according to the updated plan.
Replacement of the Ford Boulevard Bridge over the Norfolk-Southern rail lines in Ypsilanti Township, a projected $3.15 million project, will likely be on the books in 2013. The project is slated to receive about $150,000 from the Michigan Transportation Fund.
Officials decided it will be best to close the roadway for four months to complete the project, rather than extend the project for a longer period of time and keep a lane of traffic open over the bridge, said Roy Townsend, managing director of the Road Commission.
Construction of the Border to Border non-motorized trail from Hudson Mills to Dexter, a $2.1 million project, will go out to bid in November for construction in 2013.
A number of safety upgrades to several high-traffic roads are also in the works for 2013, including signal timing improvements along the Washtenaw Avenue corridor in Pittsfield Township. The potential $300,000 project will include input from the Michigan Department of Transportation.
The biggest safety upgrades in 2013 will likely be in Pittsfield Township, with a $2.5 million installation of a roundabout at State and Ellsworth roads, as well as a $60,000 project to control traffic movement at the high-crash intersection of Carpenter and Packard roads.
Still on the capital improvement plan from last year are two Textile Road intersections in Ypsilanti Township, one at Stony Creek Road and the other at Hitchingham Road. Road commissioners and planners are still unsure about what would be the best solution for those intersections, which have stop signs.
A section of 40-year-old Carpenter Road from Packard to Washtenaw in Pittsfield Township is slated for $1.75 million worth of reconstruction in 2014. The Road Commission has marked that one as a high priority.
New construction of Seven Mile Road from Main to Donna Lane, a $1.8 million project, remains on the Road Commission's wish list for 2016.
The capital improvement draft plans for the next five years also include $81.9 million in unfunded projects that have been requested by townships in Washtenaw County. That's about $15.6 million less than what was requested in the 2012-2016 plan.
Among those unfunded projects are four requests from Ann Arbor Township, three of which are on roads leading in to the city limits of Ann Arbor:
Reconstruction of Pontiac Trail from Wild Oak to the city limits
Resurfacing of Huron River Drive from Foster to the city limits
Reconstruction of Newport Road from Maple to the city limits
Capital improvement plans are typically approved by the Washtenaw County Board of Commissioners in late fall or early winter.
The Road Commission also reviewed budget projections for the next two years during its Tuesday working session. At the end of 2012, the commission's fund balance is projected to be about $9.3 million - an increase from 2011, when the fund balance was $8.88 million.
The projections, presented to the three road commissioners by Townsend, are dependent upon a number of factors, including how much employees will have to pay for their health care through Blue Cross Blue Shield, so the projections will likely change.
Road Commission Vice Chairman Fred Veigel seemed skeptical about some of the predicted financial outcomes.
"Do you take your Ouija board home with you at night?" he said to Townsend, who responded with a smile.
The Road Commission is unsure about how much money to expect from the Michigan Transportation Fund in 2013 and 2014. Should the rate stay the same, the county would get $16.55 million in 2013.
Though the Road Commission will be reducing spending in the administration, operations and engineering departments, Townsend said the commission will still be overspending its budget by $2 million in 2013, leading to a predicted $7.3 million fund balance at the end of that year.
Should the county shell out additional funds for several projects, including a Ridge Road culvert over Fowler Creek in Superior Township, the fund balance could end up even lower, at $6.543 million at the end of 2013.
Estimates for 2014 also put the Road Commission's ending fund balance at about $5 million - near the $4.5 million floor that road commissioners set years ago as the lowest amount the entity should have in its coffers.
Amy Biolchini covers Washtenaw County, health and environmental issues for AnnArbor.com. Reach her at (734) 623-2552, amybiolchini@annarbor.com or on Twitter.