Posted on
Mon, Dec 10, 2012 : 12:44 p.m.
Rockin' for the Hungry results: Food Gatherers receives 150 tons of food, shy of 200-ton goal
By Katrease Stafford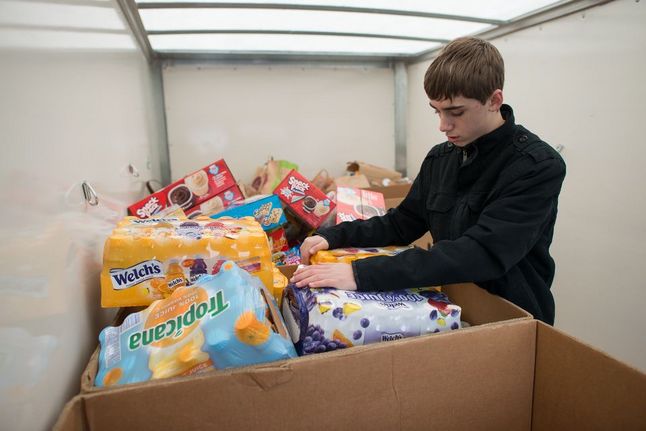 Courtney Sacco I AnnArbor.com
The 2012 Food Gatherers Rockin' for the Hungry fundraiser drive received 150 tons of food donations, which was just shy of the 200-ton goal. However, officials and volunteers are still hopeful that the goal will be reached in the coming days.
Mary Schlitt, director of development and marketing for Food Gatherers, said the organization is optimistic that more people will come forward and make a year-end gift because the need is so great.
"We're pretty positive," Schlitt said. "We just feel like from what we've raised so far, that says a lot about our community's commitment. It's kind of hard to be disappointed when you had such a great amount of people show up. It encourages us that people care about hunger."
Last year's Rockin' event gathered close to 203 tons of food, Schlitt said.
"Last year at this time we were close in terms of fundraising and it was really a couple of large online gifts that pushed us into that 200-ton range," she said.
About 171 volunteers collected food donations outside of the Kroger at 400 S. Maple Road last Wednesday through Sunday. Schlitt said donations occurred at other Kroger satellite locations throughout Washtenaw County.
The donations will help thousands of individuals and families.
"We know that we serve about 44,000 individuals in a given year," Schlitt said. "We see a lot more people during the holidays coming to us to get food. A lot of that is people are seeing more expenses, such as their heating bills going up. This helps us bridge those winter month gaps."
Rockin' donations allows Food Gatherers to be able to stock their shelves and donate to more than 150 community partners throughout the county. The food is currently being sorted and will be placed on shelves and delivered sometime this week. Many non-perishable items were donated.
Food Gatherers partnered with Kroger and Ann Arbor's 107one to get the word out about the event. Schlitt said those partnerships enabled them to reach a large audience.
"We were able to educate people about hunger," Schlitt said. "I had a woman approach me who had just got her food stamps cut off and she only had a few dollars and didn't know what she was going to be able to buy. Being approached by someone who desperately needed our services, we're not only reaching out to people that can support our cause, but people who really need us."
Schlitt said donations will continue to be taken through Wednesday and can either be made at www.foodgatherers.org or by calling Food Gatherers at 734-761-2796.
Katrease Stafford covers Ypsilanti for AnnArbor.com.Reach her at katreasestafford@annarbor.com or 734-623-2548 and follow her on twitter.