Posted on
Tue, Feb 2, 2010 : 1:19 p.m.
Roger Fraser tells Ann Arbor City Council to set aside politics to make budget decisions
By Ryan J. Stanton
City Administrator Roger Fraser didn't mince words Monday night when he told Ann Arbor City Council members it's time to set aside political ambitions and be willing to make bold - and perhaps unpopular - budget decisions.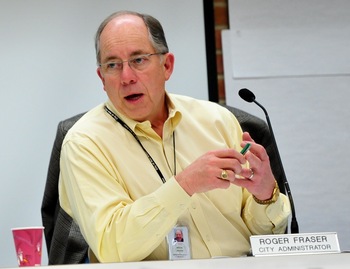 Ryan J. Stanton | AnnArbor.com
"I understand that these are politically difficult things to talk about," Fraser said. "I understand that we have elections every year. I understand that six of you are up for election this year. But I also understand that we've got some major issues that need to be resolved in terms of our budget, and something's got to give."
Fraser spoke candidly as he gave a progress report on the city's budget during Monday's council meeting.
He again reiterated the city budget process is operating on two tracks this year - one where city officials are exploring so-called "big ideas" for changing the way the city does business - such as selling parks - and another more conventional approach where city department leaders have been asked to trim their budgets by 7.5 percent starting in July.
"My fear is that if we continue to do just the kinds of cuts that result in 7.5 percent changes, that we're going to wind up getting so thin in what we attempt to do that we're not going to be able to do them well," Fraser said. "And I don't believe that we want to be an organization that provides services half-baked."
The City Council has an aggressive schedule in the coming months with budget working sessions taking place on several Monday nights - in between weeks the City Council normally meets. Fraser said he hopes to have a clearer picture after the next three meetings on Feb. 8, Feb. 22 and March 8.
"My expectation is that, over the course of those three forthcoming meetings, we're going to talk about each of the background pieces - or the big ideas - and we hope that you will tell us out of those conversations, 'That was really bizarre, and we're not going to go there,' or, 'These are some things that perhaps need additional consideration,'" Fraser said.
Beginning next week, Fraser said, the city will have a report available with more information on those "big ideas," as well as budget impact sheets that reflect the proposed 7.5 percent reductions in each service unit.
The city's budget for the 2010-11 fiscal year starting in July already presumed a 3 percent cut in general fund expenses. The additional 7.5 percent is a response to a growing budget deficit caused by further declines in property taxes and state revenue sharing payments, among other losses.
"Given the fact that, from July of last year to July of 2012, we're looking at somewhere in the neighborhood of a 30 percent reduction in our general fund spending ... it seems as though it's time to talk about services that we might be able to do without," Fraser told council members. "None of that's fun."
Fraser also told council members he expects each of them to bring fresh ideas to the table and not just simply respond to administrators' recommendations.
"We're not asking you to vote on any of this stuff, because it's my recommendation ultimately that will be formulated in March and presented to you in April," he noted.
Mayor John Hieftje gave a detailed report on the budget last week at a community forum at Pioneer High School. At that meeting, he said the city is faced with difficult choices and can either make deep cuts or increase revenues.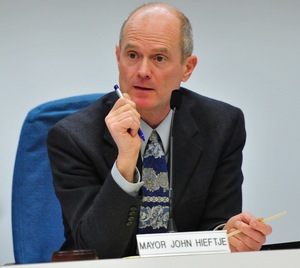 Ryan J. Stanton | AnnArbor.com
Hieftje indicated that he's not keen on the two leading options for increasing revenues - a Headlee Amendment override or a city income tax. But he said those will be a central part of the City Council's deliberations in the coming months.
Hieftje said he'd prefer, as some residents suggest, a tax on University of Michigan football tickets - but the city doesn't have that option under current state laws.
"One of the ones that people say to me all the time is, 'Well, can we tax football tickets?' And we can't," he said. "But, gee, two bucks a ticket, 100,000 people, seven times a year -Â that'd be great. Nobody would even notice."
Hieftje said the city may find itself facing hard times, but so does every other city in Michigan. He said he wouldn't trade the city's economic situation with any other city in the state.
"But we're going to need to make some choices at City Council," he said. "We've been cutting the budget for a while. We can continue to cut the budget, but we can't do it anymore without affecting services. So we need to make a choice. Do we want to continue to cut the city government or do we want to raise revenues?"
Fraser said this year's budget is more complex than ever given the deficit the city is facing. He said the City Council must be willing to "break the mold" on some ideas, because the city's financial position isn't going to turn around anytime soon.
"Even if the economy picks up, typically it's a two- to three-year lag before we start to see increased revenues from our property taxes," he said, adding the city also likely won't see increases in state revenue sharing soon. "And those were the two biggest things that we depend on in the general fund."
Hieftje said the city suffered a huge loss when the former Pfizer property became another part of the swirling mass of tax-exempt property in the city. About 40 percent of the real estate in Ann Arbor is tax-exempt, largely due to the University of Michigan.
"If the U of M had not taken over the Pfizer property, we would actually be in pretty good shape," Hieftje said. "That was 4.75 percent of our property tax revenue, and that bill comes due this year."
Fraser presented a chart at December's city budget retreat showing the city's general fund budget for the current fiscal year totals $83.2 million, about 48 percent of which is spent on police and fire services; 16 percent on general government; 12 percent on public transportation; 5 percent on parks and forestry; 5 percent on district court; 3 percent on social services and 6 percent in other categories.
Ryan J. Stanton covers government for AnnArbor.com. Reach him at ryanstanton@annarbor.com or 734-623-2529.