Posted on
Sun, Apr 17, 2011 : 5:57 a.m.
Roger Fraser will receive 'a very nice pension' after nine years as Ann Arbor's top administrator
By Ryan J. Stanton
Roger Fraser made more than $156,400 a year on average during his three highest-paid consecutive years of service as Ann Arbor's city administrator, city records show.
Factoring out sick pay and factoring in credit for his military service, he could receive a pension worth more than $41,000 annually when he retires at the end of this month after nine-plus years as Ann Arbor's top administrator, according to an AnnArbor.com analysis of city records. He also will be eligible for lifetime health insurance benefits.
"Unfortunately I wasn't a firefighter," Fraser told AnnArbor.com in an interview. "When I started here, one of the firefighters retired making more than I made as a city administrator."
Ryan J. Stanton | AnnArbor.com
Fraser, who earns a base salary of more than $145,000 as Ann Arbor's top administrator, also receives a pension from his former job in Blaine, Minnesota, where he worked as city manager from 1996 until he came to Ann Arbor in April 2002.
Fraser eventually could be eligible for retirement benefits from the state of Michigan, too. Starting next month, he'll be making $131,000 a year as deputy state treasurer.
The city won't officially calculate Fraser's pension until after he leaves, said Tom Crawford, Ann Arbor's chief financial officer and a pension board member. But Fraser, who turned 65 last month, acknowledged in an interview he's figured it out to be "a little bit more than $3,000 a month."
Based on calculations done by AnnArbor.com, Fraser could be eligible for a pension somewhere north of $3,400 a month. Records show he paid $12,719 to be able to factor a year and nine months of military service time into his calculation.
AnnArbor.com has been seeking information from the city and its retirement system since Fraser announced his pending retirement at the end of February. In response to Freedom of Information Act requests, the city provided AnnArbor.com with records showing Fraser's total income for each of the last nine years, as well as other records.
Fraser's pension will be calculated based on the average of his three highest-paid consecutive years multiplied by his total years of service and a 2.5 percent multiplier.
City records show Fraser's three highest consecutive years were 2006, 2007 and 2008, when he made $150,945, $158,513 and $159,772, respectively. But about $10,482 of that was sick pay that the city's pension ordinance says can't be factored into the calculation.
Due to banked vacation time payouts and other cash bonuses awarded by the Ann Arbor City Council, Fraser was able to boost his pay significantly in recent years, records show. For instance, he collected $12,858 in bonuses on top of his $145,354 base salary in 2007.
He made another $10,482 on top of his base salary in 2008 by cashing in 150 hours of banked sick time while also getting a $3,634 cash bonus. He made about $159,772 in 2008, the most he was paid in all of his nine years as city administrator, records show.
In 2010, Fraser cashed in 120 hours of banked vacation time and was paid an extra $8,386 on top of his base salary, boosting his pay to $154,041, records show.
Fraser pointed out he hasn't seen a change in his base salary since 2006 and many of the cash bonuses he received in recent years were provided in lieu of pay raises.
Crawford said Fraser's exact pension won't be known until after his last day of work.
The city's pension ordinance allows lump sum payments paid upon retirement for accumulated time to be included in the calculation. Fraser, if he receives any kind of significant cash payout when he leaves, could potentially include lump sum payments for up to two years of vacation time, accumulated comp time and up to 32 hours of personal leave time.
But city records show Fraser's pension likely will be calculated based on income from 2006, 2007 and 2008 instead of his final three years.
Fraser sits on the board of trustees for the city's retirement system. In 2005, a blue ribbon committee formed by the mayor and City Council issued a report recommending changes in the makeup of the board, including removing the city administrator, citing concerns that a majority of the nine board members were direct beneficiaries of the retirement system.
The report also recommended the city consider switching from a defined benefit plan to a defined contribution plan. Mayor John Hieftje said the City Council never took action to implement those recommendations because it would cost several million dollars up front, and the city isn't in a hiring mode so it doesn't make sense. As for the composition of the board, he said changing that would require a voter-approved amendment to the city charter.
Based on a recommendation by Fraser and the pension board, the City Council voted in January on changes to the city's pension ordinance to establish a "pension adjustment account" to fund future cost-of-living adjustments for city retirees.
Cost-of-living increases were discretionary before, but now retirees, including Fraser, are guaranteed a boost in their pension every July 1, after they've been retired for five years, so long as the pension system is fully funded and meeting financial performance targets. It's about 90 percent funded right now after a dive in the financial markets, but is building back up.
Most city employees are eligible for pensions at age 60 with five or more years of service, or at age 50 with 25 or more years of service. Firefighters and police officers can collect at age 55 with five or more years of service or after 25 years of service regardless of age.
Hieftje, who is not in line for a pension as mayor, said he thinks Fraser is going to receive "a very nice pension" and it's well-deserved.
"Roger has served the city well in the worst decade for city finances since the 1930s," Hieftje said. "When you step back and look at the big picture and you look at the pension an employee is going to get, for a person like Roger, that's always been there and was part of his package when he was hired. It takes a highly talented individual to run a $300 million business, which in some ways is what the city is. If Roger was the CEO of a $300 million company, he'd probably be making much more and have stock options."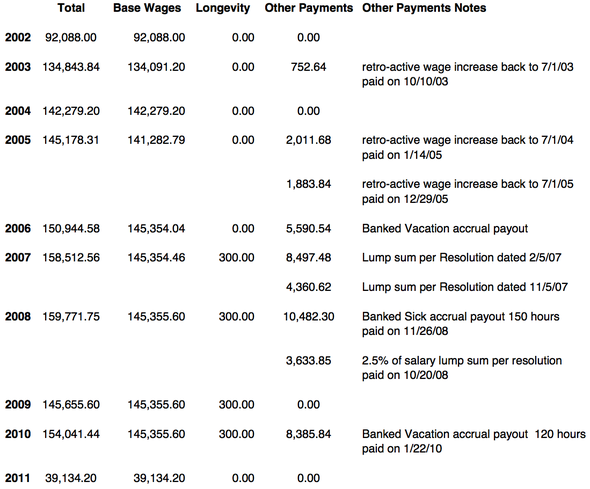 Ryan J. Stanton covers government and politics for AnnArbor.com. Reach him at ryanstanton@annarbor.com or 734-623-2529. You also can follow him on Twitter or subscribe to AnnArbor.com's e-mail newsletters.