Posted on
Wed, Aug 24, 2011 : 5:57 a.m.
Milan man riding across the country pedaling his velomobile
By Michelle Meunier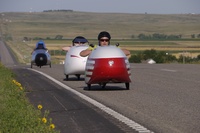 Mike Woelmer leading two other riders along U.S. 12 in South Dakota
A lot of people ride their bike to school or work, but riding 3,000 miles across the country is another story.
A Milan man is doing just that. Mike Woelmer is one of 47 riders rolling across the United States in their own velomobiles.
Woelmer began using a velomobile back in 2008 when gas prices were $4 a gallon. He was looking for an alternative way to travel the nearly 20 miles from his house in Milan to his job in Ann Arbor at SRT Solutions.
"I was looking for transportation to work, and also protection from the weather, something that would get me there a little bit quicker," he said.
At first he thought of getting something electric, but then he came across velomobiles.
"There is a shell around the entire bike, they offer great protection from the wind and the cold, and I could get to work much quicker, I can make it to work within an hour," he said.
A velomobile is a human-powered vehicle that looks somewhat like a rocket and has the same internal components as a bike, with 27 different gears, but with an aerodynamic shell surrounding it.
Woelmer is currently participating in the first Roll Over America ROAM, event, a cross-country trip that began on July 28 in Portland, Ore. and ends in Washington D.C. on Aug. 26.
"ROAM started because some Europeans said 'hey, wouldn't it be nice to take a tour of some areas in the U.S.' and then it kind of morphed," Woelmer said.
Woelmer said a typical riding day consists of roughly 125 miles, starts with waking up around 5 a.m., packing up camp and then hitting the road again at 6:30 a.m.
"We'll be riding all day and we have two scheduled stops, a coffee stop and a lunch stop, both stops are lunch stops," Woelmer said. "You just eat a full lunch because your body is just wanting food."
While he keeps his body energized during the rides, it was still difficult to prepare for the journey.
Woelmer said that he thought he should have prepared a little bit more, but it's hard to prepare for things like the Rocky Mountains.
"The only thing you can do is just make sure you are good and physically fit, and make sure that you can handle a long bike ride," he said.
"The first seven days of the trip were very hard, not only was your body trying to adjust, but we did 150 miles on day seven, a lot of climbing," Woelmer said. "We crossed Macdonald Path, which was the highest elevation we hit on the trip, and I don't think I got to the campground until 9:30 p.m. and I left at 6:30 a.m."
Woelmer said he is very thankful to his family and his employer. His wife Christine and two daughters, Elizabeth and Julia, drove his bike out to Oregon two weeks ahead of time and then spent the first few days of the trip with the riders.
"She strapped it on top of the car, took the kids and went out west; made a vacation of it," Woelmer said.
Christine actually kept a blog of their journey while they were with the group. She chronicled her trip out west with their two girls and then her time with Mike in Portland where ROAM began.
This is the first time ROAM has ever happened and some of the riders are discussing bringing it to Europe, but there is nothing official yet.
"This is probably a one-time thing," Woelmer said. "I can't see people going across the U.S. again, that's one of the reasons I was like, 'you know what, I can't miss this trip, it's not going to happen again or be an annual thing, so I gotta do it.".
Michelle Meunier is a summer intern for AnnArbor.com. Have a community news tip? Email community@annarbor.com.