Posted on
Fri, Apr 5, 2013 : 1:32 p.m.
Rollover crash on U.S. 23 leaves woman critically injured
By Cindy Heflin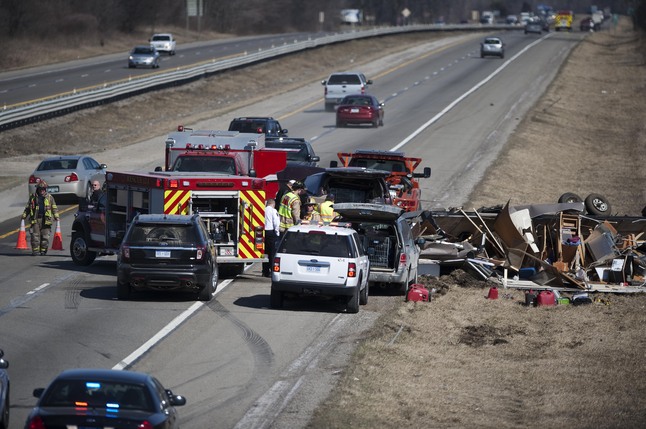 Daniel Brenner | AnnArbor.com
A woman was critically injured Friday morning in a
rollover crash
on U.S. 23 north of Ann Arbor. A camping trailer she was hauling was destroyed in the crash.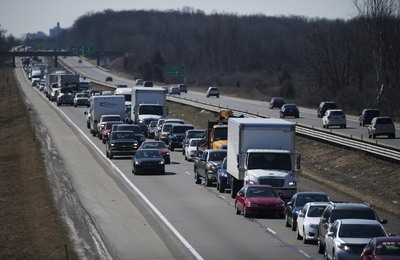 Daniel Brenner | AnnArbor.com
The crash blocked one lane of U.S. 23 for hours and caused a miles-long backup on the freeway.
The crash occurred about 10:30 a.m. Friday as the woman was driving a Ford Excursion north on U.S. 23 near Joy Road in Northfield Township. Somehow she lost control of the vehicle, said William Wagner, Northfield Township fire Chief.
A trailer she was pulling behind the SUV began to swerve, and firefighters believe the SUV and the trailer rolled over. The SUV was upright when firefighters arrived, but the trailer overturned and essentially disintegrated, Wagner said.
Huron Valley Ambulance paramedics took the woman, who was in critical condition, to the University of Michigan Hospital, said spokeswoman Karen Gabrys. The woman was the only occupant of the vehicle. Four dogs in the SUV appeared uninjured, except for possibly a minor bump, Wagner said.
As of 12:30 p.m. crews were still at the accident site cleaning it up, Wagner said. He expected them to be there for another hour or two.
The trailer contained gasoline cans and propane, Wagner said, but very little was spilled and winds whisked away any fumes, preventing the risk of explosion, he said. Ann Arbor Township firefighters also responded to the crash.

View Crash 040513 in a larger map