Posted on
Sat, Nov 12, 2011 : 5:52 a.m.
Ronald Bridgeforth: 'He was a reckless youth who made a horrible decision,' lawyer says
By Cindy Heflin
In 1964, Ronald Stanley Bridgeforth was an idealistic civil rights worker who arrived in Mississippi at the height of racial strife.
Four years later, a moment of bad judgment changed his life forever and eventually turned him into a fugitive from the law, his lawyer said Friday.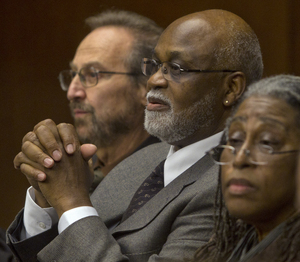 Bridgeforth, who worked for more than 30 years at Washtenaw Community College under the alias Cole Jordon, came forward Thursday in San Francisco to face charges of assault on a police officer with a deadly weapon and credit card fraud.
"It's the right thing to do," attorney Paul Harris said Bridgeforth, now 67, told reporters Thursday in San Francisco.
Bridgeforth was also trying to do the right thing when he left college in Tennessee at age 19 and headed for Mississippi. He arrived in Starkville on June 22, 1964, one day after the infamous murders of three civil rights workers near Philadelphia, 60 miles to the south.
"He put his life on the line registering voters for a year," Harris said. Conditions in Mississippi were so tense that one day Bridgeforth, fearing for his life, ran from a mob of white citizens. "The sheriff escorted him back to where he was staying on the black side of town," Harris said.
After about a year in Mississippi, Bridgeforth moved to San Francisco, where he continued his efforts as a civil rights worker and community organizer. He brought prominent speakers to San Francisco for the Student Nonviolent Coordinating Committee, Harris said.
In 1968, Bridgeforth and two other people were working with young people in the Fillmore District of San Francisco, Harris said. The three acquired stolen credit cards with which they tried to purchase clothing and toys from a White Front discount store in San Francisco on Nov. 5, 1968, he said.
Bridgeforth saga
The clerk became suspicious and called police. After a detective arrived to investigate, Bridgeforth was taken to a back room, the San Francisco Chronicle reported Friday. When a second officer arrived, Bridgeforth is alleged to have pulled a gun.
As Bridgeforth and the other two men tried to flee, a police car blocked their vehicle's path, Harris said. Bridgeforth got out of the back seat and fired two shots at the police car. Officers fired back, and Bridgeforth was hit in the foot, and all three were arrested.
Harris said Bridgeforth's two accomplices, who had prominent African-American lawyers, pleaded guilty to credit card fraud and served one year in jail. Bridgeforth pleaded guilty to a charge of assault on a police officer with a deadly weapon, and fearing a life in prison, fled before sentencing.
Harris declined to discuss how Bridgeforth managed to evade authorities for all these years. Bridgeforth fled to Africa for a year and then came back to San Francisco, eventually making his way to Michigan and WCC, he said.
Bridgeforth —under the alias Cole Jordan— began his career at WCC as a custodian. In 1993, he received a master's degree in counseling from Eastern Michigan University and in 1998 he became a WCC counselor and faculty member.
Thursday, after more than 40 years as a fugitive, Bridgeforth said he wanted to take responsibility for his actions to serve as a role model for his two sons, now in their 30s. He was raised in a religious family in San Francisco and the life on the lam has weighed heavily on him all these years, Harris said.
Bridgeforth makes no effort to defend what he did, Harris said. "He was a reckless youth who made a horrible decision."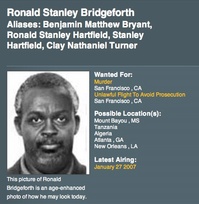 In 2007, San Francisco prosecutors levied additional charges against Bridgeforth. They accused him of being the getaway driver during the murder of a police sergeant at San Francisco's Ingleside Station on Aug. 29, 1971, while Bridgeforth was a fugitive.
But media reports Friday quoted prosecutors saying those charges had been dropped, and Harris confirmed that was the case. Harris said Bridgeforth was not even in San Francisco when the officer was killed.
Bridgeforth was held on $25,000 bond, and Harris said he hoped Bridgeforth would be bailed out by sometime Friday night.
Prosecutors have said they intend to ask for a maximum sentence of five years in prison. Chief Deputy District Attorney Karen Guidotti told the San Francisco Chronicle that such a sentence would be appropriate. She said it was "just fortuitous that none of the officers were hit."
Harris said Friday he hopes for a sentence of a year in the county jail, but worries Bridgeforth could end up with a 15-year prison term.
He said Bridgeforth now intends to plead guilty to both the charge of credit card fraud and the assault on a police officer. He said Bridgeforth realizes he committed two wrongs and wants to make them right.
"His identity was secure," Harris said. "There was no law enforcement reason for him to turn himself in."