Posted on
Mon, Apr 1, 2013 : 4 p.m.
Roundabout coming to intersection in northeastern Washtenaw County
By Amy Biolchini
The Washtenaw County Road Commission is planning to convert the intersection of Pontiac Trail and Seven Mile Road in northeastern Washtenaw County to a roundabout because of traffic problems that arise during rush hour.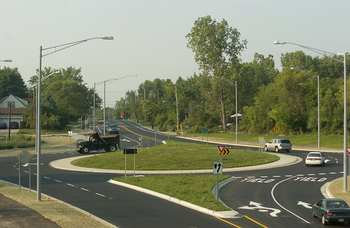 File photo | AnnArbor.com
The two-lane roadways intersect at a four-way stop in Salem Township.
During peak traffic hours, drivers experience long delays because of the stop sign, according to the Road Commission.
The Road Commission already has secured federal Congestion Mitigation and Air Quality funds to convert the intersection into a single-lane roundabout.
A $50,000 contract with Hubbell, Roth and Clark, Inc. for preliminary design services at the intersection is up for approval by the Road Commission at its Tuesday meeting.
The commission also will be considering a number of other items:
A $1.2 million construction bid for the installation of a new roundabout at Geddes and Ridge roads in Superior Township
A special assessment district for road improvements in phases 2 and 3 in the Leland Acres subdivision in Northfield Township; roads that would be improved are Leland Drive, Trudy Lane, Avon Lane, Avon Court, Tipperary Circle and Glengarry Court
2013 road improvement agreements with Lima Township and Ypsilanti Township
A signal interconnect project for 14 traffic signals on Washtenaw Avenue through Ann Arbor Township, Pittsfield Township and Ypsilanti Township to the City of Ypsilanti, including the installation of surveillance cameras
Amy Biolchini covers Washtenaw County, health and environmental issues for AnnArbor.com. Reach her at (734) 623-2552, amybiolchini@annarbor.com or on Twitter.