Posted on
Sat, Dec 10, 2011 : 2:45 p.m.
Roy Townsend named new managing director of the Washtenaw County Road Commission
By Lisa Allmendinger
Roy Townsend will take over the reins from Steve Puuri as the new managing director of the Washtenaw County Road Commission effective Dec. 28.
Puuri announced his retirement last month after 34 years of public service and 25 years at the Road Commission, first as the county highway engineer and then as its managing director.
Townsend is currently the county highway engineer and "has been an outstanding leader, while serving in various capacities for the Road Commission during the last 24 years," according to information from the organization.
He is also the Director of Engineering and oversees all permit activities, traffic and safety concerns and the design and construction of numerous state and federally funded road and bridge projects.
"I'm looking forward to this opportunity," Townsend said Thursday afternoon after his appointment. "And I'm excited about the opportunity to assume the position of managing director."
Two internal candidates applied for the job: Dan Ackerman, finance director, and Townsend.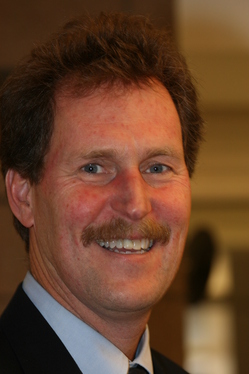 Lisa Allmendinger | AnnArbor.com
Road Commissioner
Ken Schwartz
said Townsend was the best choice for the position because of his "connection with the community. Mayors, supervisors, Department of Public Works, they all know Roy and like working with Roy," Schwartz said. "On a day-to-day basis he will be able to work with the townships and our other customers. Roy has an excellent reputation," Schwartz said.
Townsend has overseen a large number of road and bridge projects in his tenure and is well-known throughout the county.
"Roy has served in an instrumental role of fostering good customer service and solid relationships with our township and county officials, as well as our state and federal agency partners," according to a media advisory from the Road Commission.
He was lauded by the road commissioners for his experience and "proven track record to lead our agency through these challenging financial times and Roy has the insight to assist the board in determining the long-term vision for the agency."
His first task, Chairman Doug Fuller said, is to formulate a 2013 budget that does not dip into the Road Commission's fund balance, something that's been done for the last several years.
"We are continuing to spend into the fund balance," Fuller said. "I continue to challenge staff to come up with a budget without that."
Townsend has a master's degree in public administration from Eastern Michigan University and a bachelor's of science degree in civil engineering from Michigan State University. In 2008, he was named the State of Michigan's Urban Engineer of the Year and in addition, he won the state's Governor John B. Swainson Award for historic preservation for his work with the rehabilitation of the East Delhi Bridge in Scio Township.
Lisa Allmendinger is a regional reporter for AnnArbor.com. She can be reached at lisaallmendinger@annarbor.com.