Posted on
Mon, Jul 1, 2013 : 3:06 p.m.
Rules changes would limit speaking times for public and council members in Ann Arbor
By Ryan J. Stanton
The Ann Arbor City Council is considering changes to its rules to limit speaking times at council meetings, while adding new opportunities for public comment at work sessions.
The rules changes — which would reduce speaking times for both council members and members of the public — are on the council's agenda for Monday, July 1.
The meeting starts at 7 p.m. on the second floor of city hall.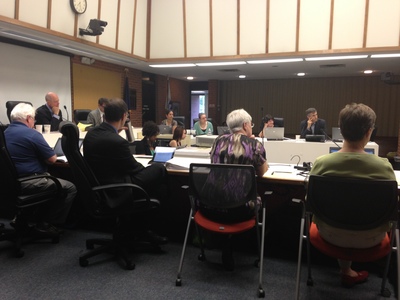 Ryan J. Stanton | AnnArbor.com
Under the
current rules
, up to 10 speakers are allowed to address council for up to three minutes each during the reserved public comment time at the start of council meetings.
The proposed changes would reduce speaking turns to two minutes, and speakers would not be able to reserve a slot if they already spoke at the start of the last council meeting.
The 10-slot limit for public comment at the start of council meetings would remain, with two spaces reserved for non-agenda items and eight reserved for agenda items.
In addition to the reserved time at the start of council meetings, there still would be other opportunities to speak during public hearings and during the general public comment period at the end of meetings. However, the time limits then also would be reduced from three to two minutes.
Council member speaking times also would be reduced. Under the current rules, council members are allowed to speak up to two times per agenda item — five minutes the first time, and three minutes the second time. That's proposed to drop to three minutes and two minutes, respectively.
It's expected that council members still could ask as many questions of city staff as they needed to clarify an issue during deliberations.
In addition to regular council meetings, the council sometimes holds informal work sessions where it discusses issues at length but does not vote on anything.
Public comment hasn't been allowed at those sessions in the past, but the proposed rules changes would add a time for that.
A new public comment period at the end of council work sessions would have to begin no later than 8:45 p.m., per the proposed rules changes.
The rules changes are being brought forward by the members of the Council Rules Committee — Sabra Briere, Marcia Higgins, John Hieftje, Stephen Kunselman and Christopher Taylor. Briere said the changes were recommended by Michigan Municipal League representatives.
Mayor Hieftje said he's not wedded to the proposed reduction in speaking times for members of the public, but he said council meetings have gotten longer. The council's deliberations have lasted past midnight into the early morning hours on a number of occasions in recent months.
"I'm pretty flexible," Hieftje said. "I'm not wedded at all to the two minutes versus three minutes, but we — members of the rules committee — wanted to get that out for the full council to discuss. Either way, I just want to hear people's views on that."
Hieftje said he does think limiting council member speaking times makes sense, because the rules always can be suspended if council members think an issue deserves more discussion. He also thinks it makes sense to not allow people to reserve time to speak two meetings in a row.
"We hear from people occasionally, the person who is not a regular at council — they will call the clerk's office shortly after 8 o'clock and find out all the slots are gone," he said. "So we would like to make it easier for the regular citizen who is not at every council meeting to have access."
The changes in rules also include a new paragraph on conduct, stating council members cannot use personal mobile devices to answer phone calls or send electronic communications, including text messages, while seated at the council table. Council members who have a need to attend to personal business would have to step away from the council table to do so.
Ryan J. Stanton covers government and politics for AnnArbor.com. Reach him at ryanstanton@annarbor.com or 734-623-2529. You also can follow him on Twitter or subscribe to AnnArbor.com's email newsletters.