Posted on
Thu, Apr 12, 2012 : 2:09 p.m.
Laila Ali to be keynote speaker at University of Michigan Title IX conference
By AnnArbor.com Staff
Laila Ali will be the keynote speaker at the University of Michigan's national conference on Title IX on May 9.

Ali, a world champion boxer, president of the Women's Sports Foundation and the daughter of Muhammad Ali, will discuss the groundbreaking federal legislation that mandated equal opportunity for females in athletics in schools, on the 40th anniversary of the law's passing.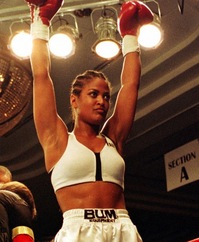 MLive.com file photo
Ali will deliver the keynote address at the Rackham Graduate School Amphitheater, 915 E. Washington St., at 5 p.m. on Wednesday, May 9. The event is open to the public.
A free interactive workshop for student-athletes, coaches and administrators, led by Olympic swimmer and Title IX expert Nancy Hogshead-Makar, will follow Ali's talk. All other events, which also take place at Rackham on May 9-11, require a registration fee.
"Title IX at 40" will highlight the broad effect of the the legislation on society during the past 40 years. More than 150 nationally recognized scholars and researchers, Olympic athletes, coaches, educators, policymakers and media experts are expected to participate in the conference, including Olympic softball player Jennie Finch.
The conference registration fee is $75 before April 15 and $100 after. The student registration fee is $50, $75 after April 15. For more information about "Title IX at 40," visit the conference's website.