Posted on
Fri, Apr 19, 2013 : 6:30 p.m.
Running Fit to host Ann Arbor unity run in honor of victims in Boston Marathon bombings
By Amy Biolchini
Local running store Running Fit will host a unity run Wednesday, April 24 in honor of the victims of the deadly bombings at the Boston Marathon April 15.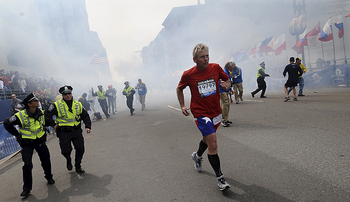 AP Photo | Ken McGagh, MetroWest Daily News
It's the third unity run that will take place in Ann Arbor as the local running community responds to the tragedy: The first of which was held April 17 by Team Red, White & Blue at Gallup Park, and the second of which will leave 10 a.m. Saturday, April 20 from The Diag on the University of Michigan's campus.
"Runners for Boston"
event will be 6:30 p.m. Wednesday at the east boat launch at
Kensington Metro Park
at 2240 W. Buno Road in Milford.
"I've always known running can give us a bit of an escape from our feelings of anger, sadness, and frustration as we deal with the troubles of this world, but since the bombings in Boston, the run seems to have taken on a new sense of purpose and meaning. Every step feels like a dedication to those who suffered," said Running Fit co-owner Randy Step in a post on RunningFit.com.
It will be a 4.15 mile run or walk to bring together runners and their supporters. Participants are invited to wear Boston Marathon gear from races past and present or their favorite race shirt.
Running Fit will be selling shirts for $20, of which all proceeds will go to the official charity fund established by Massachusetts Governor Deval Patrick and Boston Mayor Tom Menino to help the people most affected by the bombings, The One Fund.
Donations will also be accepted through checks made out to "One Fund Boston Inc."
The Saturday unity run called the "Solidarity Run for Victims of the Boston Marathon Bombing" is being organized by a running group of 15 students enrolled at U-M's Gerald R. Ford School of Public Policy. About 200 people have said they'll attend on the event's Facebook page.
The run will be a route through U-M's campus, which will begin and end at The Diag.
Amy Biolchini covers Washtenaw County, health and environmental issues for AnnArbor.com. Reach her at (734) 623-2552, amybiolchini@annarbor.com or on Twitter.