Posted on
Sun, Nov 29, 2009 : 5:57 a.m.
Salem Township officials fire longtime attorney in controversial vote
By Art Aisner
Salem Township officials fired long-time attorney Doug Winters in a controversial vote that opponents dubbed a political power play.
The 4-3 vote at a special meeting Tuesday followed a sometimes spirited discussion about proper bidding and hiring practices. The meeting also included presentations from three new law firms vying to fill the void, officials said.

The firing ended nearly a decade of service by Winters that was controversial at times, but also was lucrative for township coffers.
The special vote was spearheaded by Supervisor Bob Heyl, who at a previous meeting moved to suspend payment to Winters to review legal services, said Trustee Brien Witkowski. Witkowski said he first heard of the possibility of replacing Winters four days before the meeting and was surprised three firms were prepared to give presentations without a formal bidding process.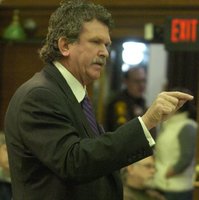 Witkowski learned the firms were pre-screened by Heyl and Township Treasurer Paul Uherek as the board discussed suspending the township's typical process for accepting and considering bids at Tuesday's meeting.
Witkowski, fellow Trustee Susan Bejin, and Clerk David Trent opposed both suspending the procedure and replacing Winters. Trent and Witkowski said they objected largely because of the timing and how the vote transpired.
"I absolutely got caught blindsided by this one," said Witkowski, who was on a committee that researched and graded new potential attorneys in multiple categories as part of the bid process before Winters was first hired.
"This isn't a quick decision to make," he said. "You have to look at the attorney's abilities, look at their fees and evaluate potential conflicts of interests. There's a lot that goes into it."
The township also dismissed litigator John Whitman of Ann Arbor-based Garan, Lucow and Miller, PC.
By the end of Tuesday's three-hour meeting, the board hired Farmington Hills-based Johnson and Rosati, which represented the township prior to Winters' hire in 2000. The change took effect immediately, though township officials are still negotiating with the firm on the price of legal fees, Heyl said.
Winters attended Tuesday's meeting but did not give a presentation.
"Our record of success was established over the years, not only in securing revenue streams, but also preserving land for the township," Winters said. "This was a political decision."
Winters represented the township in several legal battles over development, zoning ordinance enforcement and fees for other township services over the years. He was instrumental in securing $2.1 million in back royalties for the gas-recovery system at a landfill, and led the effort to stop the Salem Springs development in a $30 million lawsuit still in arbitration.
Winters also convinced township officials to join Augusta and Ypsilanti townships in suing Washtenaw County in 2005 over steep increases in the cost for police patrols. The township, which contracts for one Washtenaw County Sheriff's deputy, lost in both state and appellate courts, and the Michigan Supreme Court refused to hear the case. Winters has re-petitioned the high court on behalf of the other townships, for which he is the only legal counsel.
Heyl said the decision to dismiss Winters wasn't based on clashes with his legal advice on specific cases. He insisted the process for replacing the attorney was legal and said he feared Winters would become a "lame duck" attorney while litigating crucial lawsuits if he shared his inquiries into other firms with the entire board.
Heyl doesn't deny the decision was political, and said the move was making good on a campaign promise he believes largely propelled him to unseat incumbent Fred Roperti by 183 votes in the November 2008 Republican Party primary.
"I feel like I was listening to people during the campaign, and I understood what they were requesting as far the township attorney was concerned" Heyl said.
He declined to elaborate and deferred further questions about why he was uncomfortable with Winters to Uherek, who introduced the motion at Tuesday's meeting. Uherek did not return messages seeking comment.
Art Aisner is a freelance writer for AnnArbor.com. Reach the news desk at news@annarbor.com or 734-623-2530.