Posted on
Fri, Feb 1, 2013 : 9:45 a.m.
Saline business hosts charity event for disabled cyclists; HSHV hosts low-cost pet vaccination clinic Feb. 2
By AnnArbor.com Staff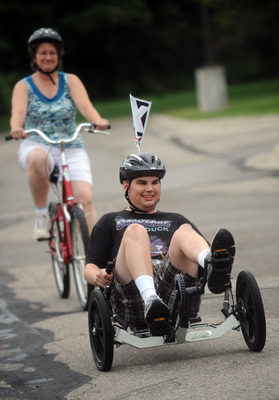 AnnArbor.com file photo | Melanie Maxwell
From a Ryde-a-Thon to benefit a charity that supports cyclists with disabilities to a low-cost pet vaccination clinic Feb. 2, here's a roundup of some of the stories posted on AnnArbor.com's Community Wall this week:
By: Deb Kern: Low Cost Pet Vaccination Clinic on Sat., Feb. 2nd
Join the Humane Society of Huron Valley for a LOW COST VACCINATION Clinic.

By: Dawn Wolfe: Saline Indoor Cycling Studio Hosts 2nd Annual Charity Event for Cyclists with Disabilities

On Saturday, Feb. 9, RydeOn! indoor cycling studio (www.rydeonsaline.com) will host its second annual "Ryde-A-Thon" to benefit a Washtenaw-area charity that supports cyclists with disabilities.
By: Susan Garvaglia: Safe Kids Huron Valley Reminds Local Parents of Fire and Burn Safety Tips
By: U-M Department of Psychiatry: Support group forum for military family members
By: Sandy Kellerman: Thank You Mr.Emery Chatman,a true Michigan Wolverine !
By: jba: Teens and alcohol/other drugs: what to know/what to do
By: Chris Kochmanski: Think Summer! Camps, That Is. Enrollment Begins Today for 2013 Summer Day Camps at Daycroft Montessori School of Ann Arbor
By: J.C. Parikh: Don't forget the Girl Scout cookies for your Super Bowl Party
AnnArbor.com's Community Wall is a spot for local people to post local stories, news and announcements. To post a story, sign in to AnnArbor.com, then go to www.annarbor.com/community and use the Got News? Tell Us function at the top to submit your news. If you have a photo to add, e-mail it to us at community@annarbor.com, and we'll insert it into your story.