Posted on
Tue, May 17, 2011 : 2:30 p.m.
Saline City Council approves installation of an electric car charging station in downtown parking lot
By Lisa Allmendinger
The Saline City Council's approval of an electric charging station for a spot in a downtown city parking lot Monday night should make Mark Hildebrandt of Saline happy.
Hildebrandt and his wife, Lorna, were the first Washtenaw County residents to purchase a Chevy Volt, and they could be plugging into a new charging station in a parking lot at 101 East Henry St. in as soon as two weeks.
Three votes were taken on the issue Monday night. The first was the unanimous approval of a site plan change that allows the conversion of an existing parking space in parking lot #2 to be turned into an electric charging station.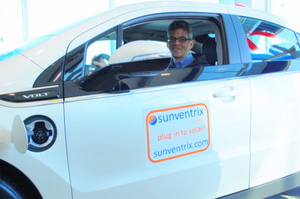 Angela Smith | For AnnArbor.com
Council members
Pat Ivey
and
Glenn Law
voted against a second motion that included the installation of a pedestal with credit card reading capabilities. The measure was approved 5-2.
Both said previously they were not in favor of the city partnering with DTE Energy or anyone else on this venture and reiterated their stand Monday night.
In February, the City Council approved a tentative agreement with DTE for a pilot program to install a car-charging station in a different parking lot. The project included the installation of a small electrical pedestal and regulatory signs for the vehicles. It's part of a $12,500 grant partnership between the city and DTE.
The city has been approached by an anonymous person who has offered to pay the city for the electric usage through Dec. 31 if the city decides to charge a user fee, City Manager Todd Campbell told City Council Monday night.
DTE officials said they would be able to provide the city with monthly data on the amount of electricity that's used by the cars at the charging station.
However, a measure to accept the anonymous donor's offer and to not charge a fee for the specialized space, failed 3-3 when council member Linda TerHarr abstained because of a potential conflict of interest. She drives an electric car.
Ivy, Law and Brian Marl voted against this motion saying the city should charge a fee.
"If someone can shell out $40,000 for an electric car, I think they can afford at most $1 per hour to park it in downtown," Marl said.
Mayor Gretchen Driskell said she had mixed feelings about charging a fee. "It's such a young market,"" she said.
Had the City Council approved the credit card reader, the cost for the hardware is $490 and there is a $9.95 per month service fee, according to a memo from Campbell.
Dearborn has eight installed charging stations but is not charging users for them, Campbell said. However, at this point, he said, there has been minimal usage of the stations.
Currently, Ann Arbor has two charging stations outside the DTE building, said TerHaar, who drives an older model electric vehicle. She said she charges her car in her garage.
In addition, 12 charging stations are planned for the new Ann Arbor underground parking structure under construction downtown, but Campbell said the city's Downtown Development Authority has not discussed user fees.
Lisa Allmendinger is a regional reporter for AnnArbor.com. She can be reached at lisaallmendinger@annarbor.com. For more Saline stories, visit our Saline page.