Posted on
Tue, Oct 18, 2011 : 4:29 p.m.
Saline native suffers trauma-induced stroke after crash near Nashville
By Julie Baker
A Saline native remains unconscious after suffering a trauma-induced stroke after a serious car crash early Friday outside of Nashville, Tenn., according to reports.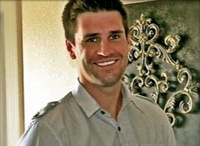 Courtesy of Facebook
The family of
Jamie Caulk
, a senior at Lee University in Cleveland, Tenn., has been keeping family and friends updated through posts on Facebook and via the student newspaper at Lee, where Jamie is the multimedia editor.
Jamie's mother, Missy Caulk, a real estate agent in Ann Arbor, posted on Facebook Friday: "Please continue to pray for my son Jamie. He is in vanderbilt trauma unit. He is Intibated and needs to wake up. Bad car wreck. He has no movement at all now. When he arrived at trauma was awake. Then crashed. They brought him back and Intibated him. He has had no sedation since 2:00 but is not waking up. We are praying for a miracle."
The Lee Clarion reported that after a test this morning, doctors have determined that blood is flowing to Jamie's brain.
His sister, Christa Caulk Stewart of Ann Arbor, posted the news on her Facebook page today.
She wrote: "Hallelujah! The test showed blood flow to Jaime's brain. A small step that buys him more time for God to continue working a miracle. Your prayers have lifted Jaime up to the grace of the Lord and comforted our family more than you know. Please don't stop praying! We love you all and are so thankful for the first piece of good news in four days."
Information about the crash was not immediately available.