Posted on
Mon, Nov 16, 2009 : 10 p.m.
Saline school community gathers to discuss budget cuts, school finances
By David Jesse
As more than 200 Saline school district parents, staff members and students streamed into Liberty School tonight to talk about the district's financial state, they quickly grabbed all the available copies of the night's PowerPoint presentation.
Superintendent Scot Graden told those without copies the numbers would be on the screen behind him.
And if they had trouble seeing it?
"I can assure you the numbers aren't pretty," he said. "You might not want to get too close."
The next couple hours proved Graden right.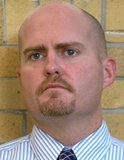 The budget numbers Saline is facing paint a stark picture.
On a $52.4 million budget, the district - thanks to funding cuts from the state, enrollment losses and other factors - is anticipating a $5,465,000 budget shortfall over the next 18 months.
The shortfall is equivalent to the district completly closing its middle school, laying off all the middle school staff and not educating the middle school students, Graden told the audience.
The district is working to avoid that, but cuts are almost certain. If teachers are laid off, the earliest staff would leave at the beginning of March, thanks to contract rules, Graden said.
Graden spent several hours tonight wading through financial numbers, pausing often to take questions from the audience. They wanted to know about issues such as step increases for teachers, transportation costs, increasing pay-for-play fees and even schools of choice.
Parent Marcie Williams, who has two children in the district, said she hopes everything is on the table.
"I think (the district administrators and school board) need to look at every line item and see if it is helping students learn," she said. "If not, then they should cut it."
District administrators will meet at the end of the month to determine any non-staff saving measures. In late January, Graden plans to bring any possible mid-year staff reductions to the school board.
Saline, like all other districts across the state, has taken a $292 cut in per-pupil funding in the last several weeks from the state. Projections have those cuts continuing and growing into next year.
Also, earlier this month, voters turned down a countywide schools enhancement millage that would have raised $30 million a year for five years to be divided between Washtenaw County's 10 traditional school districts.
David Jesse covers K-12 education for AnnArbor.com. He can be reached at davidjesse@annarbor.com or at 734-623-2534.