Posted on
Fri, Feb 15, 2013 : 2:59 p.m.
Saline woman on final leg of sleepless journey from stalled Carnival cruise
By Amy Biolchini
A Saline woman who endured five days of deplorable conditions on the Carnival cruise ship Triumph is on the last leg of her journey home Friday.
Tired from a lack of sleep and weak from days without insulin for her diabetes, Gina Howe, 44, of Saline is set to return to Michigan at 4:30 p.m. Friday from her vacation that turned into anything but a vacation.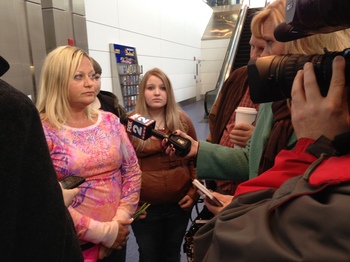 Joseph Tobianski | AnnArbor.com
Howe took the trip with her friend,
Carrie Mason Burgess
of Texas, to commemorate the life of a childhood friend who recently had died of cancer.
A fire in the ship's engine room Sunday stalled the Triumph in the Gulf of Mexico. Howe and Burgess were among the 4,200 people on the Triumph that waited days for the disabled cruise ship to return to port.
Howe slept on the deck of the cruise ship under makeshift tents with many of the other passengers to avoid the conditions in the ship's cabins. Inoperable toilets had spilled sewage in the hallways, and there was no air flow or lights in the rooms from inconsistently-working electricity.
Howe only packed enough insulin to last her the expected duration of the trip — Feb. 7 through Monday. The ship's staff told her there weren't any supplies available. She's eaten mostly fruit, vegetables and bread for the past five days.
Howe disembarked the Triumph at 12:45 a.m. Friday, several hours after the ship reached the emergency port of Mobile, Ala. Howe hasn't slept since she left the ship: By 2 a.m. she had booked a flight home, and boarded a bus to New Orleans.
In New Orleans she was able to shower at a hotel, but immediately went to the airport to board a flight to Charlotte, North Carolina. From there, she boarded a second plane to Detroit Metropolitan Wayne County Airport in Romulus.
Waiting for her Friday afternoon will be her sister Eden Davis of Pinckney and a hot cup of Starbucks, Davis said. Howe's family, including her two children, Layton Howe and Tanner Howe, will be among those greeting her at the airport.
From the airport, she'll go directly to the emergency room, Davis said.
Waiting in an area of the ship that still was damp with overflowed sewage for hours as the passengers prepared to disembark Thursday night, Howe said the stench made it difficult to breathe, Davis said.
At one point, Howe slipped on the wet floor — and at that point the cruise ship's staff put her in a wheel chair and immediately took her off the ship, Davis said.
Howe has since developed a rash on her foot and leg, which she believes came from walking the hallways of the ship and from her fall at the end of the trip, Davis said.
The trip was Howe's first cruise. She works part-time as an orthodontist in Brighton.
Amy Biolchini covers Washtenaw County, health and environmental issues for AnnArbor.com. Reach her at (734) 623-2552, amybiolchini@annarbor.com or on Twitter.