Posted on
Thu, Jan 24, 2013 : 5:03 p.m.
Trio facing charges in November break-in at Saline pharmacy
By Kyle Feldscher
This story has been updated to include where the suspects are from.
Three people are accused of breaking into a Saline pharmacy in November and stealing prescription pills, according to court records.
A 21-year-old Belleville man, a 33-year-old Ypsilanti man and a 40-year-old Belleville woman are facing charges of breaking and entering a building with intent to commit a crime, according to warrants filed at the Washtenaw County Trial Court. The three are accused of breaking into Jensen's Community Pharmacy, 968 E. Michigan Ave., early on Nov. 17.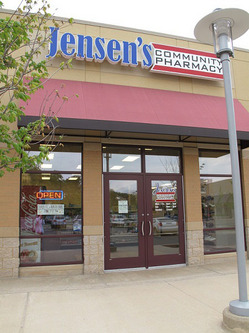 photo via www.jensenscommunitypharmacy.com
According to a Saline police report, investigators were dispatched to the pharmacy at 2:32 a.m. Nov. 17 after an alarm went off. Police responded to the scene and the suspects had fled, but a window north of the building's front door was broken.
The report stated there was a shoe print and smudged fingerprints left in the store. Stolen pills included medication for urinary problems, headaches and anxiety. The intruders did not touch cash or Schedule II narcotics in the store.
The day after the break-in, police reviewed security tape from a nearby Ace Hardware store. The video showed a dark Jeep Liberty driving toward the pharmacy just before police were dispatched by the alarm.
Police in Monroe later arrested four people involved in a pharmacy burglary who also were driving a dark Jeep Liberty and notified Saline investigators. According to the report, the four suspects admitted their involvement in the Jensen's Pharmacy break-in.
Saline police Detective Don Lupi said the four people were believed to be involved in pharmacy break-ins all over southeastern Michigan.
"They've been investigated since at least August for cases that are spread all over southeastern Michigan," Lupi said.
Washtenaw County prosecutors declined to press charges against one of the four people involved in the Jensen's break-in. Lupi said the warrants in the case were signed on Jan. 15 and processed Thursday by the trial court.
The other three suspects are still at the Monroe County Jail and have not been arraigned in Washtenaw County on their charges.
AnnArbor.com will not publish the names of the accused until they are formally arraigned on the charges related to the Jensen's Pharmacy incident.
Kyle Feldscher covers cops and courts for AnnArbor.com. He can be reached at kylefeldscher@annarbor.com or you can follow him on Twitter.