Posted on
Mon, Dec 19, 2011 : 5:59 a.m.
Strange thefts from local grocery stores often explained by drug addiction, experts say
By Kyle Feldscher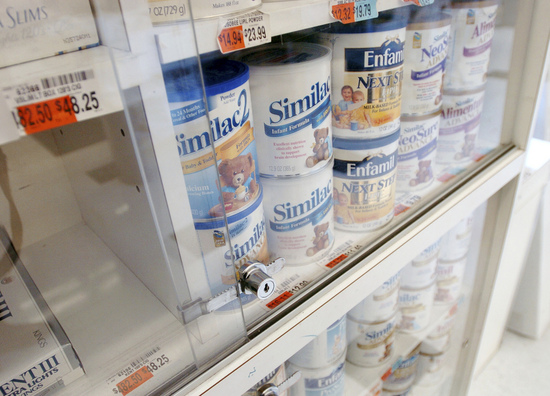 AP Photo/Bradley C. Bower
A thief walks out of a local Kroger with
a shopping cart full of meat
.
More than $500 of baby formula is taken from a Pittsfield Township Meijer.
Someone steals 10 cases of Red Bull from a Saline store.
Saline police arrest a woman with stolen 13 bottles of liquor in her car.
What do all of these crimes have in common? Local police say it's drugs.
Detective Don Lupi of the Saline Police Department said these types of thefts often can be traced back to drug addicts who have already burned their bridges with family and friends as they seek more drug money.
When it comes to larger grocery retail frauds, the police term for shoplifting, desperation is often the biggest motivation, he said.
"It goes back to desperation. It's something that people need money for and that's just the way that they choose to obtain the money," Lupi said. "They think it's easy or they don't think they're going to get caught and that's why they choose that method."
Saline and Pittsfield Township police have seen a number of these grocery thefts in the past three months. Pittsfield Township police have investigated the thefts of meat from Kroger and baby formula from a Meijer, while Saline police have investigated the Red Bull thefts and repeated liquor thefts from Country Market location.
Strange thefts
The thefts of groceries are often one of the more visible signs of the world surrounding the acquisition of highly addictive drugs, such as heroin and cocaine, according to police.
Pittsfield Township Deputy Chief of Police Gordy Schick said shoplifters are often divided between people stealing to support a drug habit and people who shoplift for the thrill, or to get something for free. However, it can be fairly easy to separate the two types of criminals when the crimes present themselves, Schick said.
He pointed to a theft of several TVs from a township Meijer location and the September theft of a shopping cart full of meat worth $150 from the Kroger at 3200 Carpenter Road as thefts that were clearly not for personal use.
"They'll take it and try to resell it to folks in the community or to other businesses, but it's not something we see all the time," Schick said.
Pittsfield Township presents a unique challenge for the township's Department of Public Safety, Schick said. The large number of grocery superstores and other national chains means there's often a high amount of shoplifting incidents in the area, which pull police officers off of other cases, he said.
Many of the stores are also open 24 hours a day, seven days a week, which allows potential thieves a larger window of opportunity, Schick said.
Nationwide, there are an average of 550,000 shoplifting incidents every day, resulting in more than $13 billion in lost goods for retailers every year, according to the National Association for Shoplifting Prevention. According to the NASP, 25 percent of shoplifters are juveniles and 55 percent of adult shoplifters report they began stealing in their teens.
In Washtenaw County, police agencies reported 1,053 felony retail frauds in 2010, according to the Federal Bureau of Investigation's Uniform Crime Report.
However, Schick reported earlier this month that shoplifting offenses in Pittsfield Township are actually down considerably from the same point last year.
The incidents are increasing this month. As the holidays draw ever nearer, police are dealing with the busiest time of year for shoplifting, he said.
"It's very time-consuming, can drain our resources really quickly, especially since we're going into the busiest time of the year for shoplifting offenses," Schick said. "December has always been the busiest time of year for robberies and it's also the busiest month for shoplifting because everybody's out."
Desperate acts
Saline police arrested Amanda Willard, a 26-year-old Milan woman, on the suspicion that she stole 13 bottles of liquor from the Country Market in Saline. Lupi said Williard told investigators that she had a heroin habit, something becoming more and more common in the city.
Dr. Kirk Brower, a professor of psychiatry at the University of Michigan, said addiction to drugs like heroin and cocaine are particularly strong.
Brower said hard drugs like heroin can not only cause an intense high, but also have an extremely powerful withdrawal. That withdrawal can drive people to do things they otherwise would never think of, such as stealing from family or friends - or their local grocery store.
"When people are that far into the addiction, what drives (their need) isn't the high or the pleasure but simply to not feel sick," Brower said. "The pleasure and high may initially drive it, but it's to try to feel not sick. That's an equally powerful drive."
Brower, Lupi and Schick all said they've seen much greater numbers of people becoming addicted to heroin in the past few years than any time in the last decade. Brower said access to heroin has simply become much easier than at any point in the previous five to 10 years, leading to more adolescents and teenagers becoming users of the drug.
If these users fall into the potentially deadly addiction cycle, it's not out of the question that there will be more incidents of addicts stealing to get the chemicals they need, Brower said.
"The majority of people do not commit major crimes to keep their habit going, but they may be disruptive and stealing from family members," he said. "It's not breaking the law, but it's pretty disruptive and evidence of how strong the addiction is. It doesn't drive crime per se, but it certainly for some becomes a last resort to keep the habit going."
Prevention and communication
Last year in Pittsfield Township, the newly-formed community patrol unit of the Pittsfield Township Public Safety Department decided one of the best ways to deal with the township's shoplifting problem was to bring all of the township's retailers together.
Schick said the two officers convene with representatives from each of the township's major retailers and have a round-table discussion, which includes information on recent thefts, names of possible suspects, photographs of potential suspects who got away with crimes and details on what information is needed to build a criminal case.
"It's been a home run for us, because we've been an engine to put together a sharing of the information and that's the most difficult part," Schick said, mentioning that three felony cases were put together at the group's first meeting.
Occasionally the meetings have guest speakers and have included at least one Washtenaw County judge, Schick said. One of the more beneficial meetings included when Washtenaw County prosecutors came to the meeting and explained to police and store representatives what it takes for them to charge someone in a retail fraud case, what kind of evidence they would need to have and the process of how someone is charged with a crime, Schick said.
It helps to have the stores, police and prosecutors on the same page, Schick said.
"It's keeping the information flowing," he said.
Lupi said Saline police have direct communication with stores in the city and often share information with them to find potential thieves.
The police report from Willard's arrest alleged she had been in Country Market several times and had the same process every time she entered, which the store manager shared with police.
It's not uncommon for arrests to be made because an employee or store manager makes an observation like that, he said.
"It's usually an alert employee that will make us aware of different suspicious circumstances that brings these things to light," Lupi said. "It pays to pay a little extra attention as an employee, it can really help an employer."
Kyle Feldscher covers cops and courts for AnnArbor.com. He can be reached at kylefeldscher@annarbor.com or you can follow him on Twitter.