Be on the lookout Saline residents, there's a 'yarn bomber' in your midst
Posted on Sun, Jun 3, 2012 : 3:21 p.m.
There's a yarn bomber quietly hiding in Saline just waiting for a chance to unleash her creations.
And, she has accomplices - other girl scouts, members of knitting and crochet circles and clubs, other fiber artists and families who join her cause.
McKenzie Sullivan also is being aided and abetted by the Saline City Council, which approved her mission to beautify the city with some unexpected temporary public art.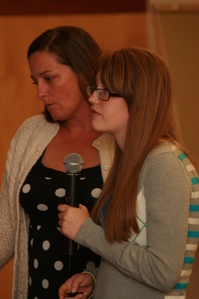 Lisa Allmendinger | AnnArbor.com
"If your art is as good as this presentation, this will be very well done," said Council Member Jim Peters, following the Girl Scout Cadet's presentation to the City Council.
Sullivan's mission will coincide with International Yarn Bombing Day when others of her ilk will "bomb" other cities with their handmade fiber art creations.
"I want to teach and involve other Girl Scouts with simple crochet projects and have it up for one or two weeks and then it would be carefully removed by me and volunteers," Sullivan said during her presentation to the City Council.
And while on display, Sullivan and her accomplices will monitor the bomb sites to ensure that the art remains the same way it was originally intended.
"Congratulations on being so creative and hopefully, 212 (Arts Center) will work with you," Saline Mayor Gretchen Driskell said before the City Council's unanimous approval of the project.
Sullivan is seeking the Silver Award, which she said is the second-highest award earned in Girl Scouts.
To earn the award, she must choose a project and complete it while spending a minimum of 50 hours accomplishing it, plus, that chosen project must have the potential to be an annual event.
"I chose to do a beautification project because I love art and my community and wanted to do something that would bring both together through art expression," she said in a letter to the City Council.
Sullivan is a three-time art scholarship recipient to "the internationally acclaimed Blue Lakes Fine Arts Camp," according to her presentation, and she plans to attend the camp again this summer. This, she said, is where she learned about yarn bombing, which began in Texas in 2005.
So be on the lookout Saline residents, she's expected to pull the yarn trigger on June 11 and people will have an opportunity to view this unique mission through June 25, when the pieces will disappear as quickly as they appeared on the benches, bike rakes, light poles, fence posts and trees throughout the city.
Prime locations include Ann Arbor-Saline Road, the farmers market parking lot and Michigan Avenue downtown, but you never know, visitors might also find them at the library or in the parks. Even on bridges.
If there are enough pieces, Sullivan doesn't plan to just throw them away after the event, rather she intends to sew them together into a collage or blankets, which could be donated to those in need.