Posted on
Wed, Jan 11, 2012 : 12:09 p.m.
Saline schools will consider mandating daily 'Pledge of Allegiance'
By Danielle Arndt
Saline Area Schools will explore the merits of mandating the daily recitation of the "Pledge of Allegiance" throughout district classrooms.
Trustee David Holden asked the Board of Education to consider the move at Tuesday's meeting, and it drew a mixed reaction from the audience.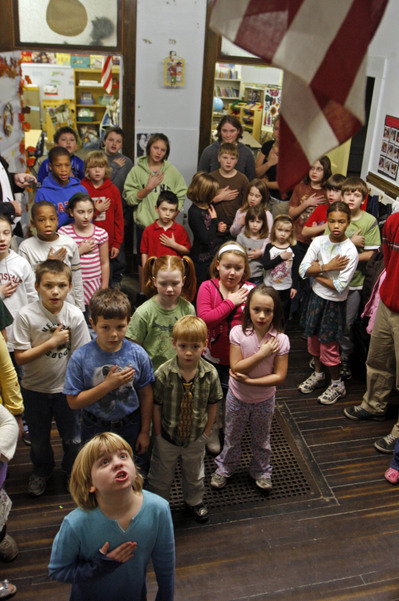 File photo
Holden said that mandating the pledge in classrooms district-wide was a campaign promise he made while running for election in November.
"A lot of people focus on 'one nation, under God,' but I prefer to focus on the back end of the pledge: 'with liberty and justice for all,'" Holden said. "I think it works very well with some of the things we are trying to do to discourage bullying."
In November, the Michigan Senate passed SB 0637, which would require students in districts across the state to have the Pledge of Allegiance at the start of each school day.
The bill has not yet come out of committee, nor has it been read on the House floor. State Rep. Mark Ouimet, R-Scio Township, who attended Tuesday's board meeting, said he believes a bill of this nature would pass "if not unanimously, then pretty darn close" in the House.
The House of Representatives recites the pledge every day as well as a prayer, Ouimet said. Each representative is required to lead the prayer when their name comes up in the alphabetical rotation. However, he or she or may choose to have a member of their constituency, such as a pastor or a priest, visit to recite the prayer instead.
But Holden said Saline doesn't need to take direction from the state on this issue. He argued reciting the pledge would provide students a "brief lesson in history and patriotism" and serve to unify the student body.
"It was one of the first diversity lessons we had (in America) before anyone talked about diversity," Holden said.
A number of students disagreed with Holden's argument, stating the Pledge of Allegiance would entice bullying, not prevent it.
Aaron Mukerjee, a student representative from Saline High School, said students who chose to exercise their rights to not say the pledge would be ostracized.
"Unfortunately, while I think the intentions of say the pledge are excellent … practically applied at the high school … I think it would exacerbate students' differences," Mukerjee said. "There would be a lot of peer pressure to say the pledge and the people that didn't would feel excluded."
Kelly Hall, a junior at Saline, said she remembers in a boy in her second grade class who was made fun of on a weekly basis for not participating in the pledge.
"It was really awful," she said.
Kelly added students should study and debate the pledge similarly to how they study the
U.S. Constitution
. She said in her Advanced Placement Government class, she and her peers have "amazing" discussions about the meaning of the Constitution.
"I think that's what fosters patriotism more than reciting (the pledge) everyday," she said.
Senior Drew Sieczka said the pledge also would take up valuable class time, when the district already operates on a trimester schedule to squeeze in the all of the curriculum required to graduate.
Superintendent Scot Graden said most of the elementary schools do have the Pledge of Allegiance included in their morning announcements, so a policy change mostly would affect the middle and high school.
A couple of students did speak out during public comment in favor of the mandating the pledge.
"Honestly, I feel there is not enough patriotism in our schools," said junior Paul Popa. "When I walk in the halls and talk with friends, I never see anyone talking about how happy they are to be an American. … The Pledge of Allegiance really brings together the ideals and morals of what it means to be an American citizen."
Steven Kiyabu said students that are not willing to say the pledge offend him.
"It ('under God') is not a religious statement," he said. "It is more a historical reference to our Founding Fathers."
He suggested reciting the pledge during lunch, so those who do not wish participate can remain seated and be more hidden among the crowd.
The Board of Education agreed to have the issue addressed by Saline's policy committee and then brought back to the board for consideration.
Staff reporter Danielle Arndt covers K-12 education for AnnArbor.com. Follow her on Twitter @DanielleArndt or email her at daniellearndt@annarbor.com.