Posted on
Fri, Dec 28, 2012 : 4:41 p.m.
Saline teen arrested after leading police on high-speed chase through country roads
By Kyle Feldscher
Police say a 16-year-old boy took his father's truck without permission, picked up his girlfriend and a friend before leading police on a chase down unpaved, snow-covered roads early Friday, eventually crashing into a drainage ditch.
After the chase, the 16-year-old driver was arrested and faces charges of fleeing and eluding a police officer, operating with a restricted license and having an expired or improper registration.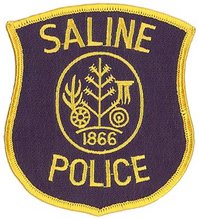 Courtesy photo
"We're always happy to see these incidents end without anyone being injured," said Saline police Detective
Don Lupi
.
According to a Saline police report, police noticed the white Dodge Ram driving without a light over the rear license plate at 2:29 a.m. Friday near Ann Arbor Street and West Michigan Avenue.
Police started to follow the truck as it turned onto Davenport Street and then Henry Street, where police turned on their lights to get the driver to stop.
The 16-year-old driver slowed and then accelerated on Henry Street and the police gave chase. The driver ran two stop signs on Henry Street before ignoring a third and turning onto Monroe.
Police followed the truck down Monroe as it turned into Macon Road, according to the report. While on Macon, the truck reached speeds of 70 miles per hour, eventually turning onto Jordan Road, where the driver reached speeds of 90 miles per hour.
The chase continued down Willow Road, which is a dirt road that had not been plowed. Police slowed to a safer speed, about 40 miles per hour, and kept the truck in their sights, often only seeing taillights, according to the report.
The officers in pursuit of the Ram called a second car in for assistance, which observed the truck turn into a field off Jordan Road north of Braun Road. Officers saw the truck stop near the tree line in the field and turn off its lights for a short period of time. The Washtenaw County Sheriff's Office also assisted in the pursuit.
Officers got out of their vehicles and started to approach the truck on foot before noticing brake lights come on. The truck then began driving out of the field and headed north on Macon Road before turning west on Johnson Road.
As the truck headed on Johnson Road, it approached the service drive for a cell tower. Instead of turning left or right at the preceding intersection, the 16-year-old drove down the service drive and ended up crashing into a drainage ditch.
A 13-year-old girl and a 15-year-old girl immediately ran out of the truck toward police and the 16-year-old boy eventually got out and walked toward police with his hands raised. The report stated the three teens were taken into custody.
The girls told police the boy picked them up, took them for a drive and was heading home when the police attempted to stop them. Despite their urgings to pull over, the boy said he could get away and began the chase, according to the report.
Lupi said it would have been easier for the boy to just pull over instead of fleeing and ending up under arrest.
"Due to his age, I'm sure he'll be facing consequences from his parents, as well as the court system," he said.
Kyle Feldscher covers cops and courts for AnnArbor.com. He can be reached at kylefeldscher@annarbor.com or you can follow him on Twitter.