Breaking records at the Saline Library
Posted on Wed, Jul 11, 2012 : 1:01 p.m.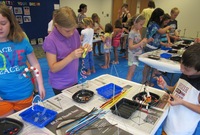 It's the middle of July. Saline has had waves of heat and drought, severe thunderstorms, and power outages. The Saline District Library has had record-breaking waves of young readers signing up for our Summer Reading Program. Over 1,200 youth are already involved in the "Dream Big: Read!" program. And summer is only half-way through! Staff is expecting even more sign-ups as families return from vacations, camps, or simply discover what happens at the Library over summer.

A lot happens in the youth department over summer. Besides keeping Reading Logs, choosing prizes and accumulating Read-a-Lotto tickets, youth participate in a variety of hands-on programs that support literacy. From Book Babies and Kaleidoscope to Art on the Go and musical performances - there has been something for everyone in the family.

The Library's events calendar (http://www.saline.lib.mi.us/events-calendar.html) lists plenty more events the second half of summer. Young readers who need extra motivation and reading practice will enjoy reading to Maggie, Taffy or Bella, reading education assistance dogs from Therapaws. More experienced readers can check out the fun at this Thursday's Readers' Bee - a team game based on excerpts from Youth fiction.

On Tuesday, Aug. 7, come see a puppet show created by Saline youth. On Friday, August 10th, there will be a stuffed animal storytime and sleepover at the Library (have you ever wondered what the Youth Department puppets and stuffed animals do after everyone leaves?). If you like performances, note that Fiddlers ReStrung will play at the Library this Thursday evening (July 18), and mark Ming Louie's magic show in your calendar on Wednesday, Aug. 15.

If your children haven't signed up to "Dream Big & Read," come on over and have them add their own mark to the Star & Moon wall that depicts all those 1,200 Saline youth who read over the summer!

For more information call (734) 429-5450 or go to www.salinelibrary.org.