Posted on
Sun, Jul 21, 2013 : 8:30 p.m.
Caleb Wittig wins Ann Arbor City Golf title one month after finishing high school
By Kyle Austin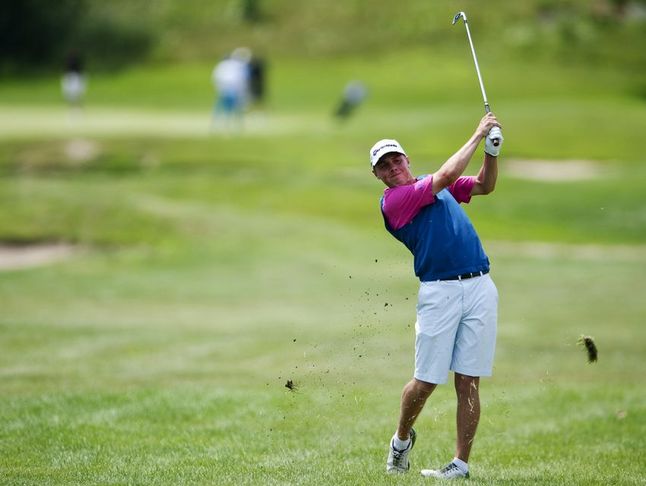 Daniel Brenner | AnnArbor.com
Of the 212 strokes Caleb Wittig took throughout the three-day Ann Arbor City Golf Tournament, he can point out the exact one that turned the weekend from a solid one to championship-level.
On Saturday, Wittig hit his tee shot on the par-five 11th hole at Leslie Park Golf Course into the trees off the left side of the fairway. He was two-over par at that point, after entering the round in fifth place overall -- firmly in the middle of the championship field pack.
But the next shot is the one that he said, "turned it around."
"I hit a punch shot through a really narrow gap onto the green, and two-putted for birdie," Wittig said. "After that, I don't think I missed a putt the rest of the round."
The birdie was part of a round of 68, which included a six-under-par 30 on the back nine alone. That mark gave him a three-shot lead heading into Sunday, when he shot a 69 to increase his lead and win the tournament by seven shots.
More Coverage: Complete Results
"I was hitting the ball really well," Wittig said. "I didn't miss a green until hole 11. I was keeping it smart, hitting fairways and greens. Basically mistake-free until the end."
Justin Welton of Dundee won a playoff over Alex Wunderlich of Ann Arbor for runner-up honors. Both finished the tournament at 219, after Welton shot a tournament-low 67 Sunday to force a playoff.
Wittig, a 2013 Saline High School graduate, is the defending Herb Fowler Memorial Junior Championship winner, giving him the rare honor of holding both the city's junior and open titles simultaneously. This year's junior tournament will be held July 31-Aug. 2 -- Wittig is too old to defend.
Wittig's city tournament title comes in just his third year playing in the event. His previous best finish was last in the championship flight.
When the pairings for this year's tournament came out, Wittig learned he'd be playing with Matt Paterini, the Saline native who's won three of the last four tournaments.
"I've played with him before and he's a really nice guy," Wittig said of playing with Paterini. "So I think that kind of takes off from the intimidation when you know that he's a really nice guy, easy to talk to."
Wittig bested the defending champ both days, by three shots on day one and seven on day two to take the 36-hole lead. Paterini finished tied for sixth with a 224.
Wittig was AnnArbor.com's boys golf Player of the Year, after a senior season in which won won regional and Southeastern Conference titles. In about a month, he will enroll at Miami (Ohio), where he plans to try out for the golf team soon after.
His high school career may have ended on a sour note, when he missed his goal of medalist honors at the state championships in June. But a month later, playing the best golf of his life and besting the top players in Ann Arbor helped make up for that.
"This is really nice," Wittig said. "This made my year."
Kyle Austin covers sports for AnnArbor.com. He can be reached at kyleaustin@annarbor.com or 734-623-2535. Follow him on Twitter @KAustin_AA.