Cloverbud 4-H Camp combines fun, food and fitness while teaching valuable life skills
Posted on Sat, Jun 23, 2012 : 12:36 p.m.
Ask any of the 22 youngsters who were campers at this week's 4-H Cloverbud Camp at the Washtenaw Farm Council Grounds to explain what "nester boxes" or "drupes" are and they'll be able to tell you.
The children, ages 5-8, from Saline, Manchester, Dexter, Ann Arbor, Grass Lake, South Lyon and Ypsilanti participated in the 3-day camp that takes place each June.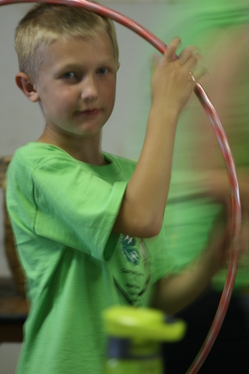 Lisa Allmendinger | AnnArbor.com
Elaine Feldkamp
, assistant program director, said Tuesday was designated as nature day, and that's where the nester boxes came into play.
They are suet holders that the children filled with different lengths of brightly colored yarn and home to be hung outside, so birds and other small animals can grab the yarn to make their nests.
The children can keep an eye out for the birds, she said, learn what species took the yarn, then this fall, when the trees drop their leaves, search for the nests, keeping a lookout for the brightly colored yarn.
Wednesday was all about food and fitness, Feldkamp said, and taught them that drupes are a peach or a plum — having one large seed encased inside the fruit.
They also learned about pomes and berries as well, snacking on healthy foods and learning about portion size.
As part of the fitness aspect of the second day of camp, they played a "Wacky Waiter" game, running while trying to keep a ping pong ball inside a Frisbee filled with water.
Thursday's theme was "Craftin' & Blastin.' First-time camper Hannah Berenson, 8, of Saline, said she likes crafts, and also learned how to plant flowers and made new friends.
But the crafts weren't just for the kids. 4-H Leader Nancy Welsh of Saline enjoyed making a green-and-white bead necklace and commented that everyone should "take the time to get a hobby."
She said 4-H helps the youth make friends and learn a hobby that can lead to an income, life skills, or even a career.
Lisa Allmendinger | AnnArbor.com
The 22 campers are split into groups and there are two counselors for every four youth, Feldkamp said. In fact, 4-H becomes a family activity for many people. Take the Milkeys of Dexter for example. Mom Patti Milkey and her three children, Andrew, 17, Rachael, 15, and Jason, 11, all volunteered for the 4-H camp. And although her husband, Kevin, was not at camp, he's also very involved in a number of 4-H activities, Patti Milkey said.
"Andrew has been instrumental in Cloverbud Camp planning," Feldkamp said.
And, later this summer, the Milkey family is looking forward to showing their sheep at this year's 4-H Youth Show, July 22-27.
For Jason, the youngest, this will be his first year showing sheep. Although he's shown a goat before, he said it was too hard to sell his goat so he switched to sheep, which his older siblings also show.
"We live at fair all week," Andrew said. "4-H is community-based. It's a good experience for kids and you get to know other families. There's a sense of community in 4-H and involvement."
Jason will enter still projects and have his sheep "Buddy" there, right along side his big brother's "732 and 734" (Andrew doesn't name them).
Rachel called the fair the "highlight of the summer," and she'll be competing on horseback as well as in the sheep ring with Lady and Scamp, her pair of sheep.
The Milkey children are members of Roger's Corners 4-H Club, which is the largest and oldest of the clubs in the county. In fact, the club just celebrated its 60th continuous year.
"The young people involved in (this camp) who help with the little kids are exemplary and they developed these skills through 4-H," Welsh said.
Lisa Allmendinger is a regional reporter for AnnArbor.com. She can be reached at lisaallmendinger@annarbor.com.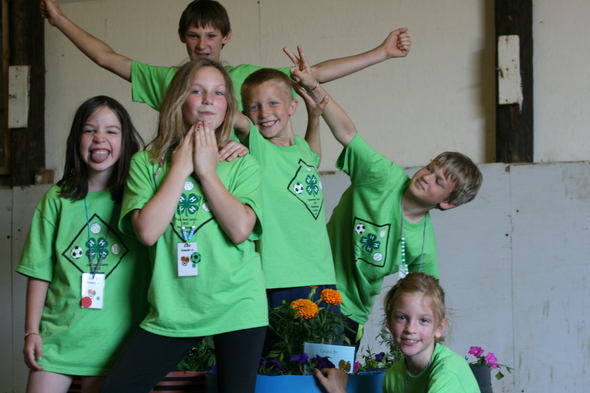 Lisa Allmendinger | AnnArbor.com