Posted on
Thu, Feb 14, 2013 : 5:40 p.m.
Deplorable conditions on stalled Carnival cruise sour Saline woman's trip
By Amy Biolchini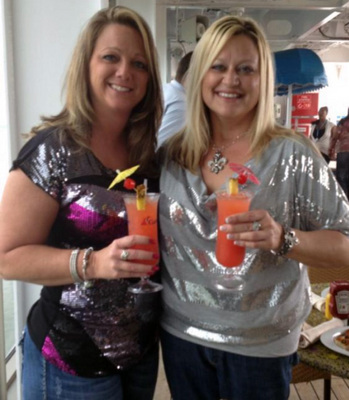 Courtesy of Eden Davis
In the wake of her childhood friend's death, a Saline woman hoped a four-day Caribbean tour on a Carnival cruise ship would help her find closure.
The trip turned into a nightmare for Gina Howe of Saline and her friend, Carrie Mason Burgess of Texas.
The duo left Galveston, Texas exactly a week ago on Carnival's Triumph. Sunday, an engine fire stalled the ship in the Gulf of Mexico -- leaving about 4,000 people on board without working toilets or consistent electricity.
Howe and Burgess chose the cruise as a way to celebrate the life of their late friend, Laura Turner Babala, who recently died from cancer. The three grew up together in Ypsilanti and were close friends.
Howe works part time at an orthodontist's office in Brighton. Her two children, Layton Howe and Tanner Howe, are enrolled in the Saline schools.
Howe's sister, Eden Davis of Pinckney, spoke with her sister Thursday afternoon as the cruise ship was slowly towed toward shore. Howe had borrowed a phone from another passenger.
"My heart just hit the floor when she called," Davis said. "She said 'I'll be fine, I'll be just fine.'"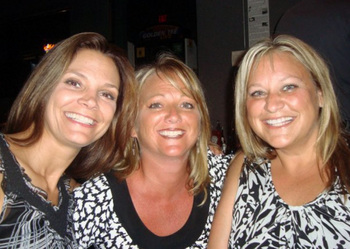 Courtesy of Eden Davis
Reports of poor conditions on board the Triumph -- including sewage in the hallways -- are all true, Howe told Davis.
"They're deplorable conditions," Davis said.
Howe is a diabetic and only packed enough insulin to last through the expected end of the trip - Monday. When Howe asked the ship staff for insulin, she was told there wasn't any, Davis said.
Howe has been provided with fruit, vegetables, bread and water since the incident Sunday. Thursday morning was the first serving of protein she's had in four days, when the staff served up bacon and eggs, Davis said.
During a roll call on board the ship, Howe was the only passenger on the cruise that reported being from Michigan, Davis said.
Howe has heard conflicting instructions from officials on board the ship as to where she will go once the ship gets to land, Davis said.
The estimated arrival time of the ship to port in Mobile, Ala. keeps moving back as setbacks continue to plague the Triumph.
A broken tug cable had to be replaced Thursday afternoon. The Triumph is now expected to be docked in Mobile on Thursday between 10 p.m. and midnight.
Amy Biolchini covers Washtenaw County, health and environmental issues for AnnArbor.com. Reach her at (734) 623-2552, amybiolchini@annarbor.com or on Twitter.