Posted on
Sun, Nov 13, 2011 : 12:08 p.m.
Downtown Saline trees come alive with lights as part of annual display
By Lisa Allmendinger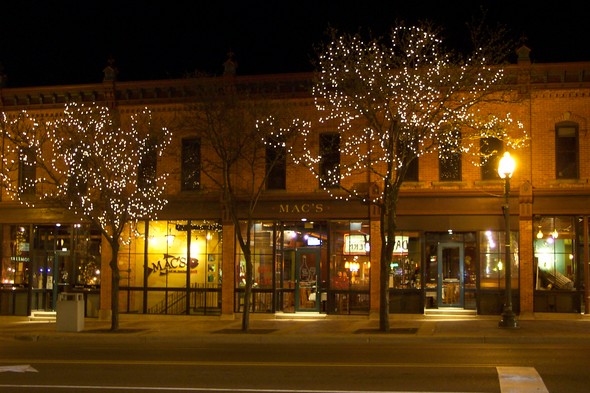 Courtesy photo from the Saline Area Chamber of Commerce | For AnnArbor.com
Last week, about 100 trees in downtown
Saline
came alive for the holidays.
Larry Osterling, the executive director of the Saline Area Chamber of Commerce, said this is a project that he's been involved with since 2005.
"I like the lights and I just think they look nice," he said. "The effect of lighting has a solid economic effect. It's an integral part of making the downtown a walkable area."
In fact, he said, there are a number of other cities and villages in Washtenaw County that have tree light displays in their downtowns including Ann Arbor, Chelsea and Manchester, which are the work of Tom Kladzyk of Manchester, who has been professionally creating tree light displays since 1988. Saline's display dates back to 2005, before Osterling knew of Kladzyk's business.
He said he hired another company to put up strings of lights with long poles, and on the first day of the light display, he watched as trucks driving by on Michigan Avenue blew strings of lights off the trees and "I literally went around the fixed the lights," he said, continuing to maintain the display for several years.
In 2007, Osterling found and hired Kladzyk, who adorned the city's trees with a beautiful professionally planned and orchestrated display.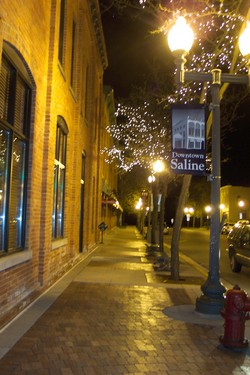 Courtesy photo Saline Area Chamber of Commerce | For AnnArbor.com
In addition to the displays in Ann Arbor, Chelsea, Saline and Manchester in Washtenaw County, Kladzyk said he creates displays in five other cities in Michigan. "We're in trees about 10 months a year," he said.
For the most part, the displays last about three years and then come down for tree trimming and other tree work and then are put back up.
Kladzyk said he and his crew work with arborists in the cities that have them.
"We like going to Saline," he said of the three-man crew that put together the light display. "Larry and the chamber are awesome to work with," he said, and the community is very complimentary of the display.
"It's an expensive project for us to maintain, especially with the severe conditions that Michigan Avenue can churn up including wind, salt and road grime," Osterling said.
Private donations from fundraising efforts for the project have kept it going.
Initially, the bigger trees can cost between $1,500 and $1,750 to do, he said. "But it makes our makes our downtown a much more inviting place to be."
Lights are on from 5:30 p.m. to 1 a.m. and from 6-8:30 a.m. on three timers and will stay on until, perhaps, a few weeks before Easter, Osterling said.
Other towns light the trees for shorter periods of time, Kladzyk said, some until the end of January, others until the end of February, while some turn them not just for the holidays but also for special events throughout the year.
Lisa Allmendinger is a regional reporter for AnnArbor.com. She can be reached at lisaallmendinger@annarbor.com. For more Saline stories, visit our Saline page.