Posted on
Sun, Dec 19, 2010 : 1:30 p.m.
Jon Falk, longtime U-M football equipment manager, shares stories of coaches, players in 'If These Walls Could Talk'
By Lisa Allmendinger
Lisa Allmendinger | AnnArbor.com
Thousands of people across the country know
Jon Falk
as the University of Michigan's longtime football equipment manager, but he's now added author to his resume.
Before this year's football season, the Saline resident published 'If These Walls Could Talk: Michigan Football Stories From Inside The Big House',with Dan Ewald. It's a collection of insider tales about the coaches and characters, players and places from his almost 40 years inside the U-M, Big Ten and bowl game stadiums and locker rooms across the country.
"Jon was always big on all of the traditions of Michigan. He's been around so long he's become a tradition himself," says George Lilja, a 1980 All America U-M center.
Falk and his wife, Cheri, moved to Saline in 2009 with their daughter, Katie, who is a junior at Eastern Michigan University. The couple spent a year living in Ann Arbor, 15 years in Chelsea and seven years in Dexter. But it's likely that Falk's spent more time inside the U-M football locker room than in any of his homes.
First hired in 1974, Falk has worked for four coaches - Bo Schembechler, Gary Moeller, Lloyd Carr and Rich Rodriguez.
"If you work for a man, you work for him full-time, all the time," he says.
And although each coach had a different way of doing things, Falk shows a fondness for each one in his book.
"I teased Bo, Mo and Lloyd, 'you wait until I write my book, it will be in there' and they laughed,'" Falk said of incidents that have happened during the years.
The 260-page book contains stories of the former U-M coaches and players from Dan Dierdorf, an All-America tackle, to John Navarre, a record-setting quarterback.
Peg Canham, the widow of legendary U-M athletic director Don Canham, has known Falk since 1975. She said Falk's stories chronicle many special Michigan memories and men during the last several decades.
"Some of the stories are hilarious; he really captured what the early years were like with Bo and Don," she said. Two years ago, Falk said he spent three months working every day from 8:30 a.m. until noon with Ewald writing the book. It is available locally at Borders, Barnes and Noble, Nicola's, Moe's Sport Shop and the M-Den as well as on amazon.com.
"Right now, it's being sold by word of mouth," Falk said. "Last week, it was No. 1 in the state and No. 3 in overall football book sales on Amazon."
Falk said while working on the book, he wondered if some of the players would tell their stories, so he called them. Tom Brady, a Super Bowl winning quarterback and most valuable player with the New England Patriots, was one of the first to agree. In fact, Brady wrote the foreword for the book.
When asked how he remembered so many details of his years with the team, he said he started keeping notes in 1980. Also, he and Ewald went through U-M yearbooks for some of the stats and specific plays, which are included in the four-section book that spans from the 1970s to the present.
Falk said Michigan football fans will enjoy reading the stories about the football coaches and the players, who have played for U-M, and through the process have became true "Michigan Men" for life.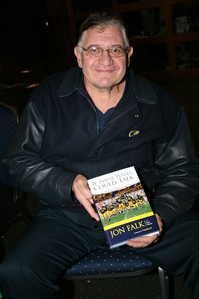 Lisa Allmendinger | Ann Arbor.com
"I think they'll like the relationship between U-M and OSU. We respect that school and they respect us,'" Falk said.
Plus, the book "personalizes a lot of the former football players," he said of the more than 5,000 players he's known throughout his tenure in the job.
And many of them contributed their stories about Falk. They agree he is more than just the equipment manager. He is their friend, their confidant and the person to whom each one could turn in good times and tough times as students and alumni.
"They are the best, they are the leaders, the men who play football for Michigan. If you can make it here, you can make it anywhere," he says.
Falk says all four coaches have treated him well, and he's been loyal to each one of them. Although he spent the most time with Schembechler and the two were close friends, he and Rodriguez live near each other.
"Rich is a good man, a hardworking man and he's trying to make U-M football the best he can," Falk says.
Falk has 17 Big 10 championship rings, 14 Rose Bowl rings and one national championship ring but his goal is to be the equipment manager for the Wolverines when they go back to the Rose Bowl.
Lisa Allmendinger is a reporter for AnnArbor.com and can be reached at lisaallmendinger@annarbor.com. For more Saline stories visit our Saline page.