Glenn Law resigns from Saline City Council
Posted on Fri, Sep 23, 2011 : 1:23 p.m.
Longtime Saline City Council member Glenn Law has resigned to take a teaching job in anther town.
His resignation is effective Saturday.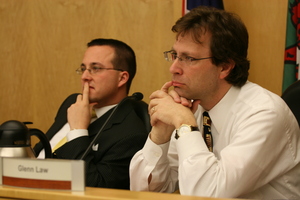 Lisa Allmendinger | AnnArbor.com
Law will be heading to the Upper Peninsula for a full-time teaching position, but he plans to return to Saline as often as possible.
"I'll continue to call Saline my home while I focus on doing the job," he said.
Law recently accepted an elementary teaching position in Menominee. "The distance will prevent me from serving," his letter states.
After receiving a degree in education from Eastern Michigan University, Law has been substitute teaching in the Clinton and Saline schools.
"This was by no means an easy decision. While I am excited to start this new chapter of my life I also regret that I will not be able to serve with such a fine, professional and caring group of people," the letter states.
Law was first elected in 2003. "It was a great privilege to serve the citizens of Saline," he said
Law had also filed a petition to run for his seat, one of three positions up for election, in November. The City Council will need to appoint a replacement in 60 days. The replacement will serve until Jan. 1, 2012, when the new council takes its seats.