Posted on
Mon, Oct 4, 2010 : 1:30 p.m.
Harvest Time at Rentschler Farm in Saline gives glimpse into turn-of-the-century farm life
By Tara Cavanaugh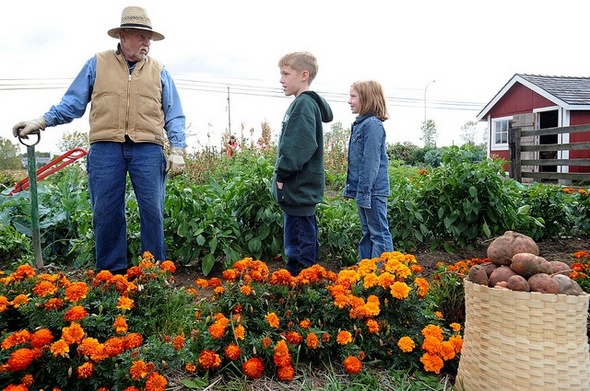 Melanie Maxwell | AnnArbor.com
Along Michigan Avenue, between a strip mall and an auto plant, the Beardsley kids learned how to shell corn on an old-fashioned, hand-cranked machine.
Keith McGuire, a volunteer, encouraged Emma Beardsley, 11, to turn the wheel with all her strength. "Aaargh, keep going," he said, egging her on. "Aaargh—I'm like the pirate farmer." As Emma turned the wheel, corn kernels spit into the bin below.
Corn shelling was just one of the activities visitors to the Rentschler Farm, Saline's historic farm museum, could participate in Sunday during the farm's eleventh annual Harvest Time. The event offered a glimpse of what farm life was like when the Rentschler Farm was established in 1901. The day featured hay rides, farm animals, homemade crafts, and performances by the Tin Penny Band and Saline Area Players.
At the shelling machine, Jeanette Brenner encouraged her daughter as she pushed the handle. "Once you get it going, you don't stop," she said.
McGuire tossed in another corn cob. "Keep going! Aaargh!" he said.
The machine spit out a clean cob. "Yay! Thank you so much!" McGuire cheered.
Emma's sister Sarah, 9, was eager to try it, and so was her little brother Joel, 5. Joel tried turning the wheel a few times, but found it was too hard. He was disappointed.
"Next year, you'll be ready!" McGuire said.
The machine that the Beardsley kids were eager to try used to be a typical farm kid's job around the turn of the century, "when you had plenty of child labor," McGuire later explained. The kids who try it out today "actually love it, which I think is funny," he chuckled.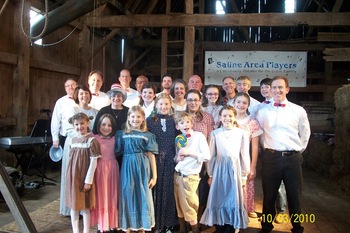 Photo courtesy of Mary Rumman
The Rentschler Farm was purchased in 1901 and farmed by four generations of the Rentschler family. It has since been turned into a museum to show what farming was like in the early 1900s..
Agnes Dikeman, treasurer of the Saline Historical Society, said Harvest Time attracts as many as 1,000 visitors from as far as Jackson and Grass Lake.
"We always planned that this event will bring families together (to) see how the garden is harvested," Dikeman said. "I'm sure they enjoy the day away from home, and seeing what it was like on the farm."
Mary Rumman, a member of the Saline Area Players, enjoyed a hay ride before performing with the Players in the barn. She stepped off and surveyed the happenings around her: fresh kettle corn for sale, the Tin Penny Band performing, children peering at chickens. She smiled. "I like how people can bring their families, that there's something for everybody to enjoy. This brings the community together," she said.