Posted on
Sun, Feb 27, 2011 : 2:30 p.m.
Saline Township woman spins yarn, community spirit from alpaca fleece
By Lisa Allmendinger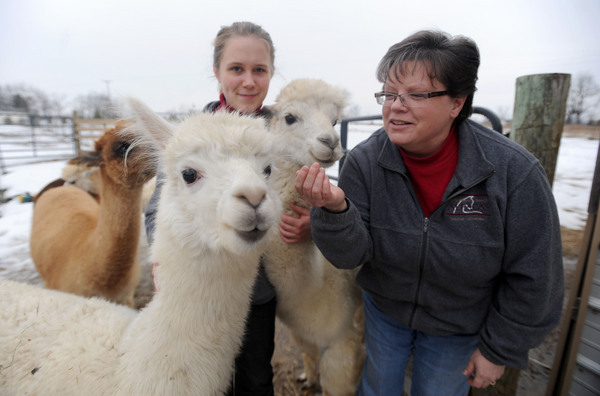 Angela J. Cesere | AnnArbor.com
An interest in fibers and a home on a Saline Township farm led Sue Schalk to acquire three alpacas in 2003.
Today she has 13 — eight females and five males, with names such as Molly, Tank Girl, Diva, Seesaw, Sugar Daddy, Louie and Sherman.
"Alpaca are wonderful animals," she said. "In general, they have great personalities and they are environmentally friendly."
Alpaca's padded feet don't tear up the ground, Schalk said, and they don't eat a lot, preferring to dine on hay.
"They're very efficient and don't cost a lot to keep," Schalk said.
Plus, their wool is soft and silky and doesn't have heavy lanolin like a sheep's wool, she said.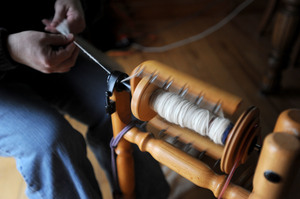 Angela J. Cesere | AnnArbor.com
About three years ago, Schalk got involved with the Spinner's Flock, a group of about 200 people, many of them from across Washtenaw County, who "practice and promote the art and craft of hand spinning," according to the group's website.
Schalk said the Spinner's Flock members work hard to educate people about fiber arts and teach them different techniques.
"There is a lot of opportunity to learn from other members. And they keep this art alive," she said.
She credits members of Spinner's Flock with teaching her how to hand-weave the fiber from her alpacas.
Some members of the group, like Schalk, raise fiber-bearing animals such as sheep, angora goats, llamas, alpacas and angora rabbits. Schalk also has an English angora rabbit named Sir Bentley.
Others are content just to attend the monthly meetings, which take place at 10 a.m. on the second Saturday of the month at the Washington Street Education Center in Chelsea.
Gretchen Grossman, also of Saline Township, said she, too, spins wool, mostly for knitting, but doesn't raise fiber-bearing animals.
Angela J. Cesere | AnnArbor.com
"They are an extremely friendly group of people who are very welcoming," Grossman said of the Spinner's Flock. "The Fleece Fair — I call it color therapy, all those tables filled with all those colors, it's nice for the middle of winter."
The group's 25th annual Fleece Fair was held Feb. 19 in Chelsea.
Grossman said she likes soft fiber: "The softer, the better, like alpaca."
So does Schalk, who owns alpacas in a variety of colors. She enjoys spinning the fiber, and using it for knitting and crocheting. Schalk also enjoys weaving blankets and took first place for one of her designs at the Michigan State Fair.
But that's not the only awards Schalk has won. She and her daughter, Kelly, were the 2009 Senior and Junior Homemakers of the Year at the Saline Community Fair.
Lisa Allmendinger is a reporter with AnnArbor.com. She can be reached at lisaallmendinger@annarbor.com. For more Saline stories, visit our Saline page.