Posted on
Wed, Jun 12, 2013 : 7:04 p.m.
Isle of Smiles tour takes Saline Fiddlers to Great Britain
By Chelsea Hoedl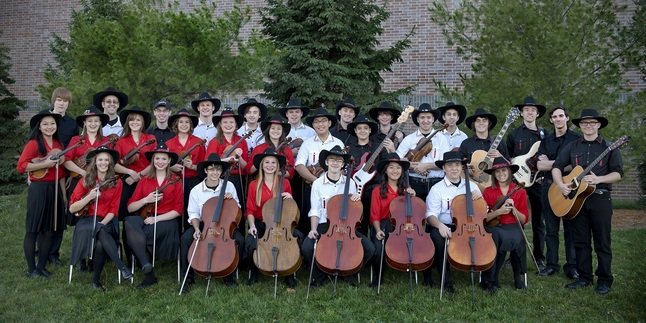 Courtesy of the Saline Fiddlers.
The excitement is building as the Saline Fiddlers prepare to travel to perform around Great Britain, with two shows in Scotland, four in England and four in Saline's sister city, Brecon, Wales.
The group will be jet-setting as part of their "Isle of Smiles" Summer Tour. Although the group travels every summer, this will be the first official reference to the tour as "Isle of Smiles" since the event began.
The Saline Fiddlers consists of 27 high school-aged fiddlers, many of whom are multi-talented. The group performs a broad range of music including traditional American, Blue Grass, Celtic and even modern pop. Because members of the group also are talented singers and dancers, the program often includes vocal performances and traditional clogging.
The group will leave for England on June 26, accompanied by three staff members and eight chaperones.
"This trip is a wonderful opportunity for these kids, but it is also a good thing for our community and our country," parent volunteer Gretchen Waters said. "It is a very special group of young people and when they go over to these places they are representing not just themselves or the Saline Fiddlers, but all of Saline and all of the United States. They're showing others that there are talented and open young people over here."
Four years ago, the group traveled to Lindenberg to visit Saline's other sister city in Germany. The trip was such a success that there was interest in traveling to Brecon in Wales, Waters said. Two years ago the group began contacting the city to see if a trip could be arranged.
"After getting in touch with the mayor's office in Wales, we had a formal invitation to visit and perform," Waters said. "The next big hurdle was to raise the money. It's pretty expensive to move a group of our size overseas, so it took a fair amount of work."
The entire cost to the Saline Fiddlers was approximately $90,000. About $20,000 of the money needed for the trip came from their internal budget, but the rest was raised through a rigorous fundraising campaign, Waters said.
One-on-one contact was made with corporations, foundations, local businesses and past donors to raise about half of the money needed, Waters said. The rest came from donations from audience members, online donations and money raised by working at University of Michigan concession stands.
"In addition to meals and hotels we have to rent a motor coach to transport the group and we have to rent sound equipment and pay someone to travel with us who will maintain that equipment," Waters said. "That was a big expense on top of getting the 38 people traveling with us there."
Recent high school graduate and Saline Fiddler violinist Mellissa Ungkuldee said she feels lucky to have a community willing to donate and help the group get to Great Britain.
"A lot of the preparation for this trip was fundraising," Ungkuldee said. "The community has been so supportive and that has made this possible."
The four concerts in Brecon were arranged by the city clerk. The others were arranged by reaching out to contacts from past visits in the 1990s when the Saline Fiddlers traveled to the UK twice, Waters said.
"We have a really busy schedule of performances," Ungkuldee said. "I've traveled with the fiddlers every summer since my freshman year and I don't think we've ever had so many performances scheduled for a tour before. It's a great opportunity to be able to play so many concerts."
The Saline Fiddlers will perform for a variety of audiences from school children in Brecon, to free community performances, ticketed events and likely tourists when they play at the Cardiff Millennium Center, which is one of the most visited tourist attraction in Wales.
The group will perform in the historic Brecon Cathedral along with the Brecon Cathedral Choir in order to raise money to bring the group to Saline in July, 2014, Waters said. The Saline Fiddlers and Brecon Cathedral Choir will come together at the end of the concert to sing The Star Spangled Banner and Welsh's National Anthem.
"The kids have been working to polish their performance, but the most difficult part for them in preparing has been learning to sing the Welsh National Anthem," Waters said. "They will also be collaborating in at least two or three of the other concerts. We've been exchanging music back and forth and they have to learn all that before we leave."
Waters said the trip won't be all work for the Saline Fiddlers. The kids and their chaperones will have plenty of time in-between performances to be tourists, waters said.
"We hope to have them see a lot of different things," Waters said. "They'll be visiting several castles, visiting national parks and historic places. They'll visit the old stone circle in England, a closed coal mine in Wales, a full city tour of London and then the highlight in Manchester is the soccer stadium."
Ungkuldee said she is excited to travel with her friends and share their music with others.
"Being a part of the Saline Fiddlers has been incredible," Ungkuldee said. "It's an opportunity that not a lot of kids have. It's been a blessing to have this in my life and it's been really fun to be able to make music and share this experience with my friends."
The nearly 80 performances the group performs during the span of a year makes scheduling other activities difficult, but Ungkuldee said that is why she gets so much out of it.
"For both the kids and the parents it's like another family," Waters said. "The kids become very close friends; they even spend time together outside of performing. I think the thing most people are really surprised with is the amount of time that is required to be a part of the group. In the summer they are performing two to four times a week. They practice every Sunday until the Summer Tour and then they are constantly traveling together so of course they form bonds."
The Saline Fiddlers will perform at 7 p.m. Thursday as part of the Saline Downtown Concert Series before they leave for Great Britain. Anyone interested in seeing the group and sending them off before their tour is encourage to come, Waters said.
Chelsea Hoedl is an intern reporter for AnnArbor.com. She can be reached at choedl@mlive.com.