Posted on
Sun, Jan 30, 2011 : 1:30 p.m.
Saline education program cultivates independence for adults with disabilities
By Lisa Allmendinger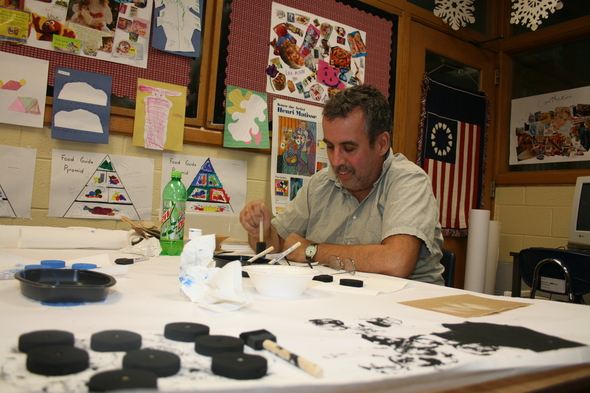 Lisa Allmendinger | AnnArbor.com
Lee Ann Redies
says she's made friends and learned new skills in her first three weeks at
Liberty Club
, a new four-day-a-week program for adults with disabilities that meets in Room 20 of Liberty School in Saline.
And she's not alone. Amy Acree of Saline has learned about healthful eating by drawing and discussing the food pyramid.
Lance Massie, another participant and Saline resident, enjoys sanding and painting wooden cars during meetings of the club, which aims to build job skills as well as provide a safe and educational environment for people who may have few other outlets.
Massie has also cultivated business skills through the Saline school system. For the past five years, he's run a small dog-walking and pet-sitting business.
Saline Community Education started Liberty Club earlier this month to assist the families of adults with disabilities, whose needs extend beyond the school years. After age 26, a Saline student is no longer under the district's umbrella, and caregivers must plan daily supervision and continuing education -- no small feat when parents work day jobs or need to go out of town.
Saline Area Schools already runs a Young Adult Program for students with disabilities, and this new program fills a void by offering services to those over 26.
Ryan Noel, recreation and education enrichment specialist, says Liberty Club came to life through the efforts of concerned parents, community leaders and educators, who conducted a survey of the special-needs community. Linda Smith, Liberty Club's assistant director, says her own son Phillip attends the program, so she knows firsthand the need for it. She also has a degree in elementary education and leads lessons at the club.
Liberty Club provides supervised activities 8 a.m. to 3 p.m. Monday through Thursday. A typical day includes personal skill-building such as math, banking, and reading; arts and crafts; gym activities; lunch; and work skills, ranging from computer exercises to gardening or answering telephones.
"This is a community center-based program that promotes continuous learning and social interaction for adults with disabilities," Smith says. "It's designed to continue to develop skills as building blocks for living safely and more independently in the community."
Job skills are an important part of the program, says Smith. For instance, club participants practice in a mock grocery store, learning to run a cash register, make change and bag groceries.
"The Price is Right" is a favorite game, she says.
Participants also look at newspapers to see what is going on during the weekend and around the country.
"We connect them to Saline, focus on the community and help them make connections to assist them to be more independent," Smith says.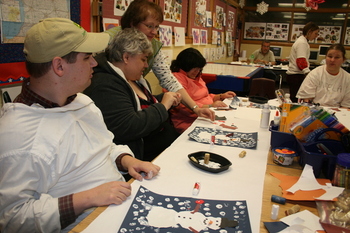 Lisa Allmendinger | AnnArbor.com
The young adults also emulate the work of master artists like Matisse during the arts and crafts portion of the day.
Angela Hamman of Ann Arbor and Jessie Stevens of Saline say arts and crafts is their favorite part of the day because it's a way to make friends, socialize and create new things.
"I made a friendship bracelet," Hamman says.
Currently, eight to 10 adults attend the program. Participants must provide their own transportation, lunch, drinks and snacks. Costs for the club are covered by Medicaid vouchers.
Organizers hope to secure funding for a 12-person transport van, find small-business ventures for participants, expand with evening and weekend activities, and secure grant money to keep the program growing. New students are being accepted, and the program is open to Washtenaw County residents.
"I'm excited about the opportunity for our community," says director Jackie Macy. "This is just the beginning because I feel we are on the cutting edge of providing this opportunity and program that will grow and grow and grow." For more information, contact Noel at noelr@saline.k12.mi.us or 734-429-8020; Smith at 734-429-1087 or DSLL@comcast.net; or Macy at 734-429-3729 or macyj@saline.k12.mi.us.
Lisa Allmendinger is a reporter with AnnArbor.com. She can be reached at lisaallmendinger@annarbor.com. For more Saline stories, visit our Saline page.